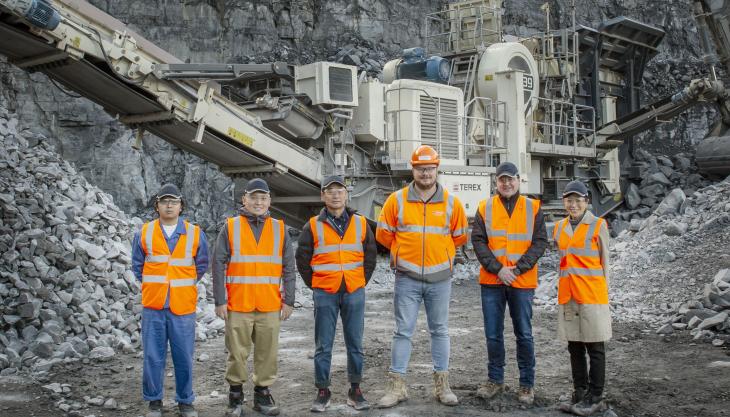 Finlay's Japanese dealer and customers impressed by crusher's capability and efficiency
FINLAY's Japanese dealers, Kurimoto, recently visited Ireland to see for themselves the new LJ-130 hybrid jaw crusher in action. The Kurimoto team was accompanied by customers who were said to be impressed by the feed size of the material that the LJ-130 was able to crush with ease, and the plants overall capability and efficiency.
'It was an honour to welcome the Kurimoto team and their customers and to present the capabilities of the LJ-130,' said Finlay regional sales manager Barry Boreland. 'Strategically, Japan is a very important market for our business and Kurimoto have positioned themselves in a way that makes them the partner of choice for capital equipment. They are now one of the strongest representatives of Finlay in Asia.'
The Finlay LJ-130 hybrid jaw crusher, which has been developed for large-scale quarry and mining operations, can operate as standalone primary crusher or can be integrated into a mobile or static crushing and screening plant.
The machine can be powered by its onboard genset powerpack configuration or connected to an external power source. Both power options provide operators with significant energy, servicing, and maintenance cost savings compared with a diesel/hydraulic-powered plant.
And, for ease of transport between locations, the plant can be split and reassembled without the need for heavy crane assistance on site.
Key features of the LJ-130 hybrid jaw crusher include:
The plant's electrically driven power systems provide significant cost advantages and environmental efficiencies
The large feed width and gape allows the crusher to accept larger and coarser material, reducing the need for hammering of oversized product
Automatic variable-speed VGF ensures continuous choke feeding of the crushing chamber for optimal productivity
High-powered electric drive ensures precise chamber controls and reverse functionality for clearing blockages and assisting in construction demolition, asphalt, and recycling applications
T-Link telematics hardware and software along with free seven-year data subscription are fitted and installed as standard.