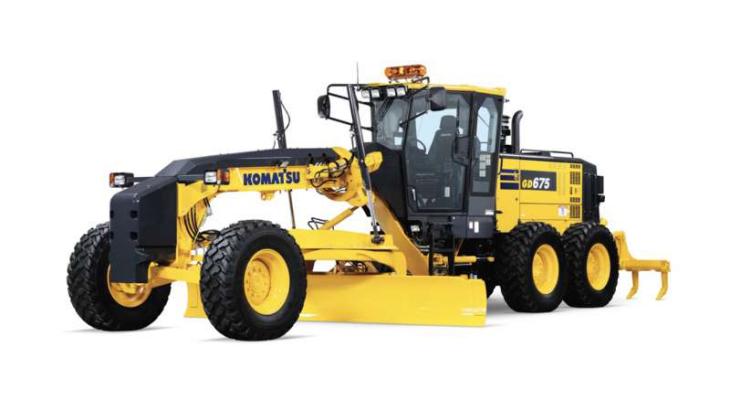 Powerful Stage V emission-certified machine featuring strong focus on operator comfort
MARUBENI-Komatsu have announced the introduction of the new Komatsu GD675‐7 motor grader featuring a powerful and efficient EU Stage V emission‐certified engine and 'heavy‐duty' after-treatment system that combines a Komatsu diesel particulate filter (KDPF) with a selective catalytic reduction (SCR) system.
Along with the new EU Stage V engine, strong development focus was put on operator comfort, as William Groven, product manager at Komatsu Europe, explained: 'The complete redesign of the controls to a fingertip system reduces operator arm movement by more than 90%. Thanks to this, and combined with new transmission controls, new stop‐at‐center articulation and much better visibility, operator stress and strain is greatly reduced.'
The 218hp (163kW) Komatsu SAA6D107E‐3 engine is EU Stage V certified. For optimal fuel savings, a two‐mode, three‐stage, variable horsepower control (VHPC) allows the selection of the appropriate mode, Economy or Power, to match operating parameters to the application.
After-treatment components were designed together with the engine for efficiency and long life. The KDPF is now combined with a new integrated Komatsu SCR system using AdBlue, to further reduce NOx emissions. More than 98% of KDPF regeneration is performed passively, with no action required of the operator and no interference in machine operation.
The Komatsu auto idle shutdown function automatically turns off the engine after it idles for a set period of time, helping to lower operating costs and reducing unnecessary fuel consumption and exhaust emissions.
Komatsu's industry‐exclusive dual‐mode transmission (8 forward, 4 reverse) allows operators to benefit from the high travel speed and the reduced fuel consumption provided by a direct drive, and from the increased tractive effort and control of a torque converter.
The powershift transmission, designed and built specifically for Komatsu graders, provides on‐the‐go full power shifting, as well as inching capability and automatic shifting in the higher ranges. A full locking differential offers the required traction, even in the most severe operating conditions.
A new transmission shift lever, with a finger‐operated Forward–Neutral–Reverse switch, simplifies operations and significantly reduces the amount of hand movement required, whilst the new inching pedal allows precise control of the machine.
According to Komatsu, the slightly smaller but 'right size' steering wheel improves visibility and operator room in the cab and is convenient for long 'blade‐up and roading' trips. A new steering lever lets the operator keep both hands on the low‐effort work equipment levers and make small steering adjustments, while operating, without needing to turn the steering wheel.
In addition, the new multi‐position adjustable arm rests and LH/RH consoles can be precisely matched to the operator's preferences thanks to a powered raise/lower function and mechanical fore/aft adjustments.
A new high‐capacity air‐suspension seat softens in‐cab machine vibrations and the 'stop‐at‐centre' articulation feature further simplifies operation, whilst the 'presence-monitoring' system sounds an alert if the operator's seat is left empty without the controls being properly locked out.
Two, five‐section hydraulic control valves are standard: they allow the addition of attachments and are strategically located to improve forward visibility. For grade control, the GD675‐7 is Topcon 3DMC plug‐and‐play ready, with no aftermarket valve required.
The closed‐center load-sensing (CLSS) hydraulic system, with a variable-displacement pump, supplies flow and pressure only when required, resulting in less heat and a lower fuel consumption. Blade-lift accumulators absorb shocks when the moldboard hits immovable objects.
The GD675‐7 is supported by the Komatsu CARE maintenance programme that comes standard with most new Komatsu EU Stage V construction machines, with maintenance extended to cover the SCR system.
Moreover, Komatsu's KOMTRAX wireless telematics system provides machine metrics, including KDPF status and AdBlue‐level data, fuel consumption, plus performance information, collected and sorted by operator ID.