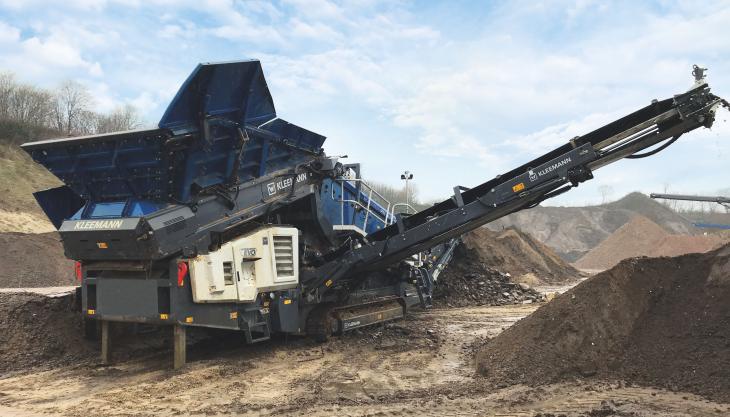 German recycling firm heaps praise on Mobiscreen MSS 802(i) Evo plant
ERNST Krebs GmbH & Co. KG have praised the performance and versatility of their new Kleemann Mobiscreen MSS 802(i) Evo unit. The company – which specializes in waste-recycling, demolition, earthworks, road construction, and transportation – was looking for a processing plant that had to be flexible and, above all, perform in a gravel quarry just as well as on the waste-recycling site, including the recycling of rubble and railway ballast.
Looking for help in identifying a suitable machine, André Krebs, owner of Ernst Krebs GmbH & Co. KG, approached Henning Lüdtke of Wirtgen Germany, with whom he has been working together from many years. After hearing the task description, it was clear to Henning Lüdtke that the ideal Kleemann screen for processing stone materials ranging from very fine to very coarse, as well as with all degrees of contamination, was the Mobiscreen MSS 802(i) Evo machine.
The problem of sourcing the screening plant at the time was that it was not available in the German market. But Henning Lüdtke found an unconventional solution. He offered André Krebs a pilot series model of the plant for coarse materials.
Accepting the offer, Mr Krebs commented: 'In our quarries and in recycling we have already been using Kleemann machines for a long time with real conviction. I was therefore fully confident that this machine would also do a good job. And based on the description from Henning Lüdtke I knew this was exactly the machine that we needed.'
The flexibility of the Mobiscreen MSS 802(i) Evo plant begins with the large feed hopper. The hopper rear wall and the filling aids can be folded variably so that loading from different heights (from both sides and from the rear) can proceed in an optimum manner. The screen surface change is comparatively easy even in the lower deck because the screen casing can be placed completely in horizontal position.
The screening parameters can be adjusted precisely and even conversion, for example from three to two final grain sizes, is uncomplicated. Machine transportation from one jobsite to another is also quick – the discharge conveyors can be folded in without the disassembly of parts.
Thanks to the stepless driving control, the plant can also be moved precisely into position. All relevant machinery functions can be operated from a safe distance, increasing overall operator safety.
After a few months of practical testing, the screen for coarse elements was able to demonstrate its qualities. 'One of the real challenges for us is, for example, gravel extraction,' said Mr Krebs. 'We have to deal with a lot of sand with a relatively small proportion of stone. This means that the side discharge conveyor for fine grain has a real tough job. Other screening plants would soon reach their limits. This is no problem for the new plant.'
According to Kleemann, the screen casing can be set more than 20% steeper than many other screens for coarse elements in the market. This delivers a great cutting effect for the separation of fine material such as sand and a significantly higher output. Since taking delivery of the Mobiscreen MSS 802(i) Evo plant, Ernst Krebs GmbH & Co. KG have been so impressed with their investment that they have decided to order a further machine.