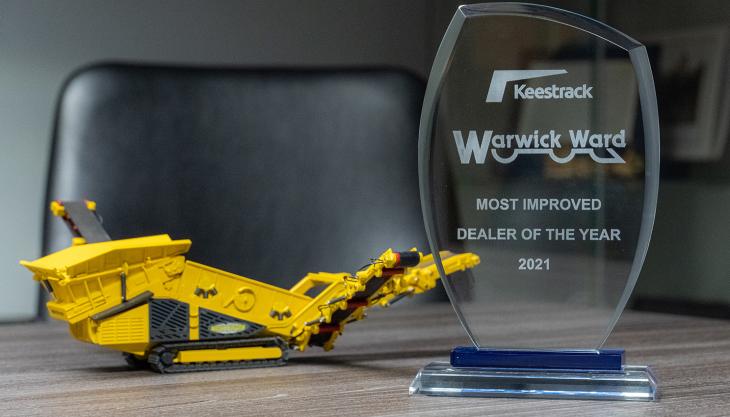 Warwick Ward (machinery) Ltd win 'most-improved dealer' award for crushing and screening equipment
KEESTRACK recently hosted their annual dealer conference at the company's new state-of-the-art showroom facility in the Czech Republic, where Warwick Ward (machinery) Ltd received global recognition for their year-on-year sales growth, by picking up the 'most improved dealer' award for 2021.
'Warwick Ward received the award for making the biggest progress as a Keestrack dealer due to their efforts in marketing and sales in a very competitive British market,' commented Frederik Hoogendoorn, chief executive officer of Keestrack.
Tom Pope of Warwick Ward said: 'On behalf of the team, it's great to pick up this award, which recognizes our achievement and growth over the past year. We were committed to increasing market share in a very competitive market and the quality and performance of the Keestrack equipment has allowed us to do that.'
Warwick Ward stock, deliver, and support the full range of crushing and screening equipment from Keestrack, including mobile jaw, impact, and cone crushers, and scalper and classifier screeners.
'Keestrack are a well-respected business within the crushing and screening industry and well known for designing and manufacturing equipment with built-in quality and reliability,' Continued Mr Pope. This, backed up with the first-class UK after-sales network from Warwick Ward, will allow us to continue our growth and success in this area.'