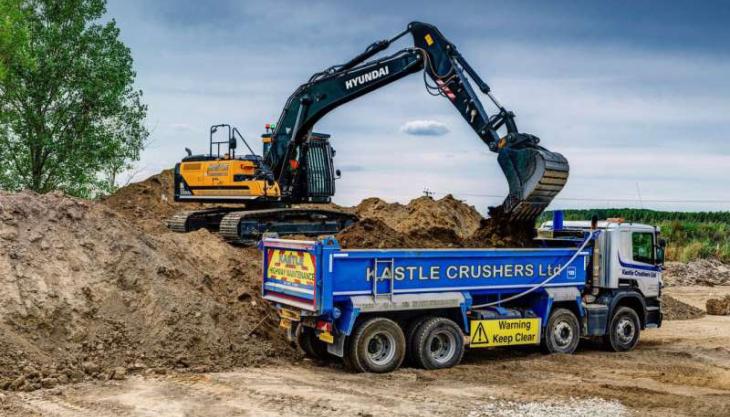 Recycling firm invests for the future with 22-tonne HX220AL excavator
KASTLE Crushers – specialists in crushing, screening, and recycled aggregates – have taken delivery of a new Hyundai HX220AL crawler excavator which, they say, perfectly fits the bill for all their contracting needs.
With a brief to find a machine that has been designed to be powerful and built to last, with reduced emissions, Kastle Crushers turned to their trusted dealer Taylor and Braithwaite to source the HX220AL unit.
Working at the contractor's recycling site, near Selby, in North Yorkshire, the excavator has proven its worth to Kastle Crushers as a good all-rounder machine with power and performance.
Sam Collis, director of Kastle Crushers, said: 'We were looking for an excavator that could do a bit of everything, would be durable and capable of accepting a whole host of additional attachments including munchers, peckers and buckets. Hyundai has certainly lived up to its good reputation and our operators are impressed with how the HX220AL is handling.
'Not only that, but the Stage V Cummins engine is helping us to lower our emissions without compromising on power – a huge benefit as we look to futureproof our fleet and move towards a more eco-conscious business model.'
Echoing Mr Collis' sentiments, John Holtby, one of the machine operators at Kastle Crushers, said: 'The new Hyundai has everything you hope for as a driver – the air con is great, the seat is perfect and it's really responsive. But what makes the biggest difference to the operator are the safety features.
'The glass panel on the door is a brilliant addition – when you're high up on the pile you can see down the sides and it makes you feel more confident because you have a better view of what's around you. The 360-degree camera is a godsend too, particularly when you've got pedestrians wandering on site. Safety is paramount on any job and in the Hyundai you definitely feel like that has been taken care of.'
The HX220AL also features the new Engine Connected Diagnostics (ECD) system, which immediately reports any engine failure to both Hi-MATE and engine manufacturer to ensure the fastest, easiest resolution. In addition, a new EPFC (Electronic Pump Flow Control) system improves controllability and reduces operating costs for Kastle Crushers.