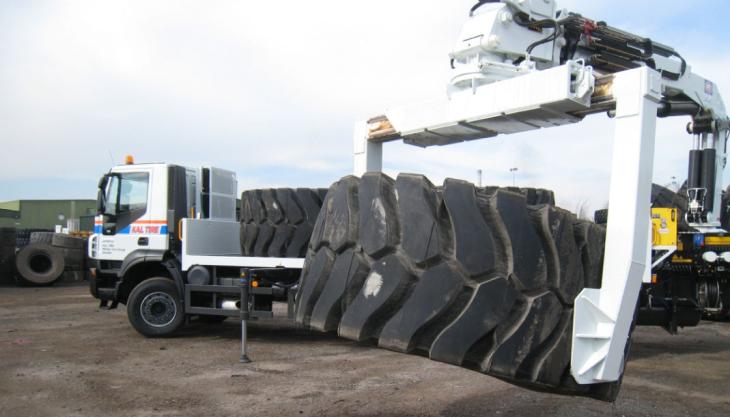 Kal Tire, a global leader in earthmover tyre supply and service, and a leading UK waste industry tyre specialist, will once again be exhibiting at RWM.
The company offer a full range of tyre products to suit each sector of the waste and recycling market. In addition to an available supply of new tyres in a comprehensive range of sizes and tread patterns, Kal  say that their 'Fil' tyres are a cost-effective long-term solution to tyre-related machine downtime in hazardous environments. Fil tyres are guaranteed 100% Fil and can be retreaded up to three times; (depending on casing quality) giving further cost savings and environmental benefits on replacement tyres. The Kal Tire Fil service is available at depots throughout the UK.
Kal Tire 'Cushion' solid tyres provide a puncture-proof solution for very hazardous working environments. Tyre presses are available at Kal Tire service depots. Kal Tire cushion solid tyres can also be retreaded up to three times, depending on casing quality.
Also on show will be the Brawler range of solid skid-steer and telehandler wheels and tyres are marketed in the UK by Kal Tire. The Brawler range are sold with a wheel replacement option.
Kal Tire's 'tyre hire' service is designed to remove the complexity of tyre management for customers. With fixed monthly costs, related overheads are controlled, allowing better cash-flow management and capital utilization.
The company's state-of-the-art Kal Tire retread manufacturing facility has the ability to retread all earthmover tyres from 24in to 57in and utilizes the very latest technology to provide a quality retread tyre.
Kal Tire say their ReMould has the appearance, performance and integrity of a new tyre with the financial and environmental benefits of a retread. The Kal Tire 'Smooth and Groove' manufacturing process gives Kal Tire the ability to produce tyres with bespoke tread patterns and compounds to suit a wide range of working environments.
Kal Tire have an operational network that is made up of regional service centres and satellite sites, giving the company the ability to respond quickly and efficiently to customer enquiries and requirements.
Their fleet of more than 40 specialist fitting trucks are operated by fully trained, qualified and experienced tyre service engineers and come complete with the latest remote tyre-handling equipment. The vehicles have the ability and capacity to handle all earthmover tyres – up to a rim size of 57in – that are used on the heavy machinery operating within the waste industry.