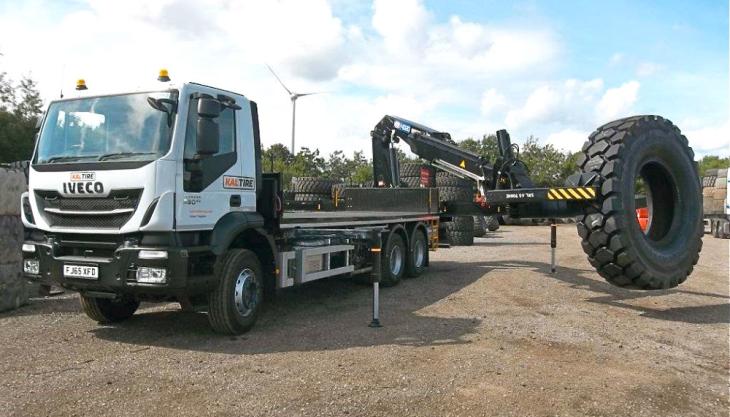 Company acquires Iveco Trakkers with advanced customized features and all-new branding
EARTHMOVER tyre specialists Kal Tire UK say their new fleet of Iveco flat-bed trucks, which are equipped with some of the most advanced customized systems and feature the company's all-new branding, will allow them to provide total national coverage for new and existing customers' tyre service requirements.
Based in Alfreton, Derbyshire, Kal Tire have used Iveco trucks for several years in both the UK and West Africa, where they have proved very reliable in the arduous working environments in which the company's service engineers generally operate, such as quarries and mines.
Mark Lee, Kal Tire's asset transport and asset maintenance manager for Europe and Africa, is delighted with the new acquisitions and especially with the range of advanced systems fitted by Massey Trucks.
'We've replaced some of our older vehicles with these state-of-the-art Iveco Trakkers,' he said. 'Not only does this enhance the overall image and appearance of the Kal Tire fleet, but the trucks' new features also enable us to be more effective and efficient in our operations.'
New features include an automatic transmission, a remote-control crane, and, most importantly, a remote-control inflation system – the most advanced to date for Kal Tire UK – which allows the engineer to stand in a safe protection zone while inflating tyres.
Each of the new trucks features a 40-tonne HMF crane, a 51in UHL tyre handler, a supercharge intensifier to operate the high-pressure tyre tooling, and a piston compressor capable of producing 175psi.
The first of the trucks is already fully occupied handling a workload of 51in tyres for a customer in Scotland, and as existing vehicles are re-liveried, the fleet will gradually fly Kal Tire's new branding across the whole of the UK.