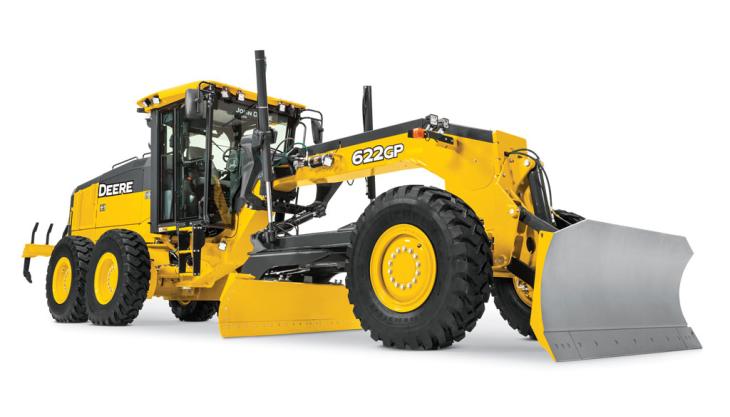 US equipment manufacturer to roll out 622GP and 672GP motor-graders in Germany and France 
JOHN Deere are introducing two popular G-Series motor-graders to the European market via the Wirtgen Group distribution network in Germany and France. The 622GP and 672GP models will be available in these two countries from early this year.
David Thorne, senior vice-president of sales and marketing, commented: 'We are excited to leverage our relationship with the Wirtgen Group to introduce John Deere construction equipment to a new market, further expanding our global footprint.
'Wirtgen's stellar reputation for supporting customers, and their large distribution network, allows us to serve these new markets well, offering them powerful motor-grader solutions in two priority countries.'
The decision to introduce the graders follows an increased interest in John Deere equipment following the Wirtgen Group acquisition in 2017. Motor-graders are used heavily in road building and the synergies between the Wirtgen portfolio and Deere models, as well as the prospering German and French markets, were all determining factors in the decision to bring the machines to the European market. 
The European rollout focuses on the six-wheel drive 622GP and 672GP models that feature fuel-efficient Tier 4 Final John Deere diesel engines – 6.8 litres for the 169kW 622GP, and 9.0 litres for the 190kW 672GP. 
Six-wheel drive with automatic differential lock allows the machines to power through the toughest cuts and gives operators increased traction in poor ground conditions or when working on ditches or side hills.
The 622GP grader with 3.66m mouldboard operates at a weight of 19,078kg, whilst the 672GP unit with 4.27m mouldboard weighs 19,976kg.
Other key features of the John Deere machines include: comfortable dual joystick controls with lever steer and standard steering wheel; automatic return-to-straight, a reverse camera; a rear-mounted ripper/scarifier; a front dozer blade; and 18-light LED package.
The motor-graders are also equipped with an automation suite that helps operators improve production by reducing the number of controls required to perform common tasks, including auto-articulation, blade flip and operator-selectable machine presets.