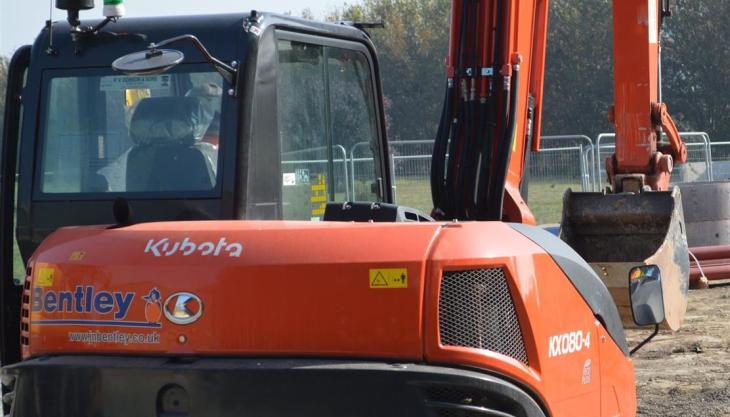 Contractor boosts its equipment fleet with the addition of 19 new Kubota machines
SKIPTON-based JN Bentley have ordered 19 new Kubota mini-excavators after securing contracts in the water sector which will run until 2020 and beyond.
JN Bentley specialize in projects in both the construction and civil engineering industries and focus primarily on the water and wastewater sectors. The contractor's current fleet consists of 30 Kubota machines from both the KX and U-Series.
Recent contracts were secured through joint venture company Mott MacDonald Bentley (MMB), a partnership that harnesses the expertise from Mott MacDonald and JN Bentley. As a result of the increased workload, the jv approached PV Dobsons to purchase a new Kubota fleet of KX080-4, U55-4 and KX101-3 mini-excavators.
Highly versatile and extremely powerful, JN Bentley chose the Kubota U55-4 because of its excellent stability and ability to work efficiently where space is confined. The advanced 5.4-tonne mini offers upgraded digging and lifting power for efficient and reliable everyday performance.
The KX101-3 is said to deliver exceptional digging power when needed thanks to its well-balanced arm and bucket. The unit runs smoothly whatever the load size, thanks to Kubota's one-pump load sensing hydraulic system.
JN Bentley chose to purchase Kubota's 8-tonne KX080-4, the most powerful and robust model in the Japanese manufacturer's range. It is equipped with a four-cylinder Kubota engine that utilizes direct injection (DI) to maximize digging strength while minimizing noise, fuel consumption and exhaust emissions.
Kevin Young, plant manager at JN Bentley, said: 'We've been using Kubota machinery for more than ten years and are very pleased with their reliability and durability. It's a very busy time for us with projects in the building and civil engineering industry, thanks to new and extended contracts secured with the likes of Yorkshire Water and United Utilities. We require machines that we can trust to get the job done and Kubota fits the bill.'
Andrew Dobson of PV Dobsons commented: 'We've been supplying Kubota machines since 2006 and feedback has always been very positive. The KX080-4, in particular, is one of the most efficient and innovative compact machines on the market and has been a popular choice with customers since its launch.'