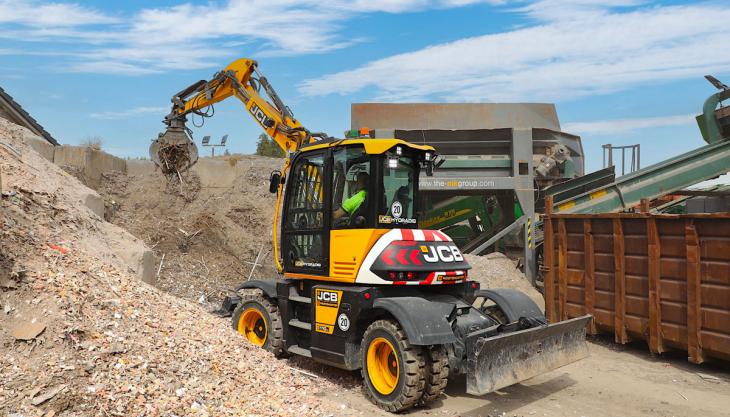 Newton Waste Solutions hail performance of JCB wheeled excavator at waste-processing plant
MOTHERWELL-based Newton Waste Solutions have praised the performance of two JCB Hydradig wheeled machines at their waste-recycling facility, where they recycle more than 95% of all waste materials brought in.  
Supplied by Scot JCB, the Hydradig, with its tail swing of just 120mm, can work and slew in the most confined areas due to its compactness and manoeuvrability around a jobsite. This is further enhanced by a choice of four-wheel steer, two-wheel steer, crab steer, and reverse steer options, which has made manoeuvring in the limited space at Newton Waste Solutions' waste-processing plant safer and easier for operators.
According to Michael Smith, operations director at Newton Waste Solutions, the maximum manoeuvrability and performance of the JCB Hydradigs have made a massive difference for the skip hire and recycling business. 
'We choose JCB for the reliability, affordability, and after-sales and back-up support from Scot JCB, which are second to none,' said Mr Smith. 'We have a small yard and the manoeuvrability of the Hydradig is fantastic.
'We use it with a selector grab for processing metal, wood, and other segregated waste products and have found it to be a highly efficient tool. The operator feedback is that nothing can touch the JCB Hydradig for power, comfort, and performance. It also brings outstanding visibility, which is so key in our operation for safety reasons.'
The Hydradig offers a maximum 1,400kg lift capacity over the front of the machine and a 700kg-plus lifting capacity over the side. The excavator's low flow rate of 60 litres/min, and high flow of 120 litres/min auxiliary hydraulic circuits, allow the Hydradig to be fitted with a wide range of attachments. The machine also has a top travel speed of 40km/h, allowing for quick and efficient movement between jobsites.