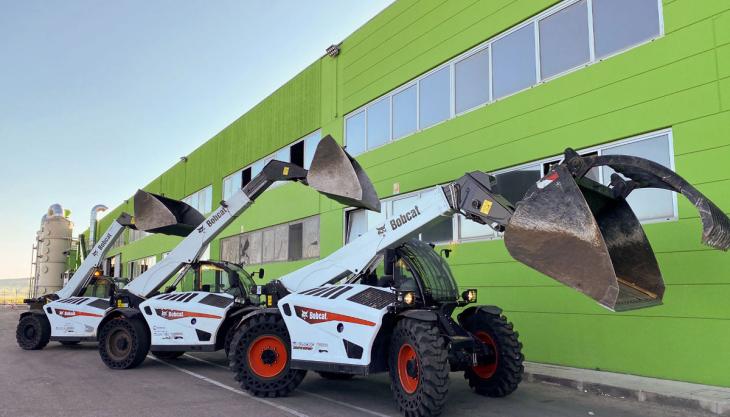 Matera-based Decom strengthens telehandler fleet with new TL43.80HF Waste Expert unit
DECOM Srl, a leading waste-management company in southern Italy, have taken delivery of a new Bobcat TL43.80HF Waste Expert telescopic handler to help boost their waste-recycling operations.  
The company is among the first in the country to achieve 'End of Waste' certification, specializing in the reprocessing of a wide range of waste materials. A key objective of Decom's operational strategy is to recycle as much as 98% of the materials collected and processed at their Matera recycling plant.
To carry out the transport and waste-management of recycled materials, Decom operate a fleet of Bobcat telescopic handlers which, thanks to their robustness, efficiency, versatility and ease of use, have proved to be ideal machinery solution for intensive industrial applications typical of the waste industry.
The latest addition to the Decom fleet of Bobcat telescopic handlers, the TL43.80HF Waste Expert model, has been specially engineered for materials handling duties in the waste-recycling sector. 
Giuseppe Labbate, plant manager at Decom's Matera recycling facility, commented: 'Over the years, to improve the quality of work and to speed up the production cycle, we first purchased a Bobcat TL26.60 telescopic handler and then added a Bobcat TL38.70HF model for truck loading.'
'We have recently further expanded the telescopic handler fleet with the Bobcat TL43.80HF Waste Expert, which is even tougher and higher performing. Designed with reinforcements and protection such as the strong chassis and cab and light grids, this machine is perfectly suited to our work, where the materials we handle are often at risk of falling on to the machine.
He added: 'Furthermore, the agility provided by the four-wheel steering, the compactness and the lifting capacity of over 4 tonne, has made the handling and loading of materials for recycling a much simpler process, with an increase in productivity.'
The Waste Expert range has been introduced to provide a new, dedicated material-handling solution to the waste-recycling sector and Decom currently have four of telescopic models, the TL35.70, TL34.65HF, TL38.70HF and TL43.80HF, covering a variety of tasks whilst meeting heavy-duty cycles.
Powered by Stage IV engines, the Waste Master telehandlers offer lifting capacities from 3.4–4.3 tonne and lifting heights from 6.5–8m. The waste-specification telescopic loaders are already well proven in the market as sturdy, efficient and particularly easy to operate, owing to an extra-large boom head, a high-tensile steel boom, boom cushioning and protected hydraulic rams under and inside the boom. 
The machines are also equipped with heavy-duty Dana Spicer axles and additional reinforced protection, making them the one of the toughest telehandlers available in the market. The 'high flow' technological features of the Waste Master models are said to deliver superior hydraulic capabilities for high loading and lifting performance. 
As with all Bobcat telescopic loaders, the Waste Expert models have a box welded frame to meet heavy-duty cycles and a higher ground clearance, with a bottom plate along the entire length, to protect vital machinery parts.