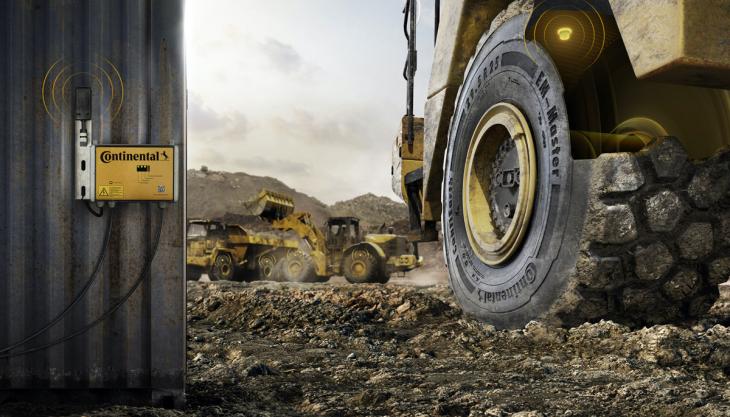 Continental to showcase their latest on- and off-road tyre innovations at Hillhead 2022
Visitors to Hillhead 2022 will be able to get to grips with Continental's broad range of intelligent on- and off-road tyre solutions. The expo will see Continental preview their all-new LD-Master Traction L5, ahead of a full launch this autumn. The latest addition to the ContiEarth range, the Traction L5 has been specifically engineered for operators traversing the most demanding terrain. It will play a key role in helping customers to maintain a high level of productivity and assure maximum vehicle uptime.
Hillhead 2022 will also play host to the introduction of a 750/65R25-version of Continental's revered EM-Master E3/L3 tyre for ADTs, loaders, and dozers. Engineered to have a normal tread depth but with wide spacing between the blocks, the E3/L3 boasts exceptional traction and manoeuvrability, even on soft and muddy ground. The open tread also facilitates greater cooling, which helps to extend tyre service life.
Continental will also be demonstrating their digital tyre pressure monitoring system, ContiPressureCheck, and virtual tyre-management platform, ContiConnect 2.0, at this year's show. Every tyre in the ContiEarth range is fitted with inflation pressure and tyre temperature monitoring sensors during the manufacturing process. In doing so, Continental can offer the earthmoving sector a diverse range of intelligent tyres that can work hand-in-hand with operators to increase efficiency and minimize downtime.
Mike Leedham, OTR sales manager at Continental, said: 'We're delighted to be back at Hillhead for 2022, and with a wide-ranging line-up of products for guests to see, there really is something for everyone. Our experts can offer a consultative approach to sourcing the best tyre or digital system for your business and will be on site for the duration of the event to offer advice and answer any questions. We look forward to welcoming customers old and new to our stand.'
For show attendees that utilize HGVs off- and on-road in abrasive environments, Continental's stand will have the durable Conti CrossTrac HS3 and the WasteMaster 5 from retreading specialists Bandvulc on display. Continental's CrossTrac range perfectly balances off-road durability with the on-road performance requirements of smooth handling, excellent fuel efficiency, and mileage longevity. With the added enhancement of chip, chuck and cut resistance, the tyre has proven to be a dependable mixed-use workhorse for truck users.