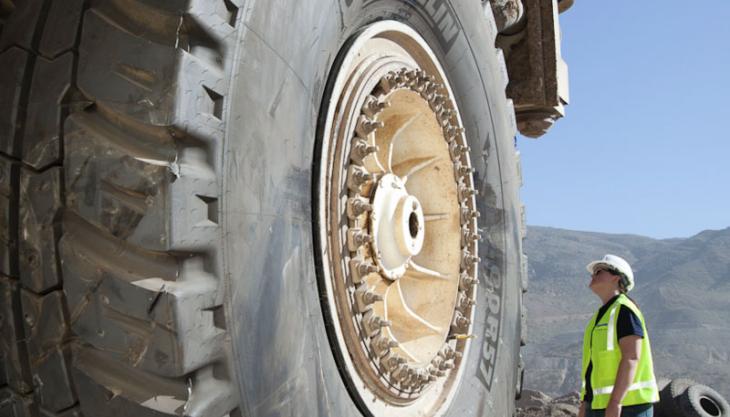 High demand for Safe Earthmover Tyre Fitting and Safe Crane Tyre Fitting courses from Michelin
MICHELIN are now able to offer expert tyre fitting and maintenance training for operators of industrial and heavy-duty machinery through two new one-day courses.
The Safe Earthmover Tyre Fitting and Safe Crane Tyre Fitting programmes are delivered at the customer's site by experts from the Michelin Training & Information Centre (MTIC). The sessions are appropriate for in-house technicians or tyre dealers working in a variety of sectors, including mining, quarrying, construction and materials handling.
'Michelin invests heavily in their industrial tyres, utilizing the latest technologies and in-depth research and development to ensure they offer superb robustness, longevity and performance,' said David Womble, training instructor at Michelin. 'To get the maximum from these products it's important the tyres are set up correctly and that a suitable tyre-management programme is in place.
'Fitting and maintaining tyres on large machinery can be a complex process, but all of our instructors are experts in the field – having been trained at our global headquarters in Clermont-Ferrand, France.'
Participants must be certified to use heavy lifting equipment, have previous experience of fitting large commercial tyres and have access to their own equipment, which will be thoroughly checked by Michelin's experts before training commences.
Both programmes include advice on tyre selection, tyre classifications, wheel rims, factors influencing tyre life, how to immobilize the machines, health and safety procedures – including the correct personal protective equipment (PPE) – and tyre mounting and demounting.
At the end of the course, which includes a theory examination and practical assessment, all successful technicians will receive a City & Guilds and Licensed Commercial Tyre Technician (LCTT) qualification.
The LCTT qualification forms part of the National Tyre Distributors Association (NTDA) Technician Professional Development scheme, that provides both the technician and employer proof of their professional competence.
The training – carried out under strict COVID-19 safety protocols – has already been delivered to several major customers, including workshop technicians at Oban Earthworks, who operate at Glensanda, in Scotland, one of Europe's largest quarries.
Michelin say there has been a good demand for the rest of the year but there are still a number of days available – travel restrictions permitting.