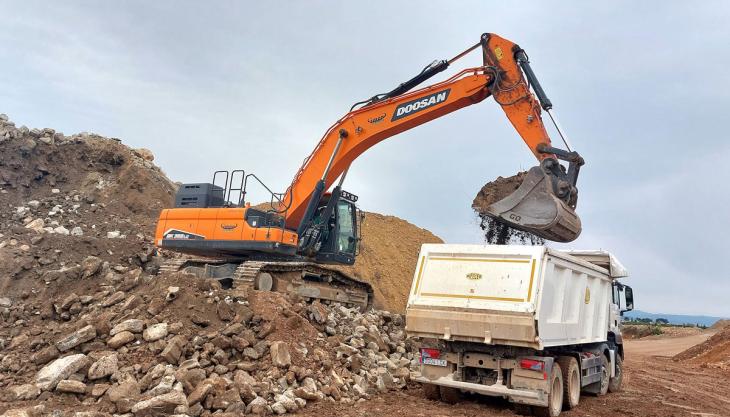 Spanish recycling firm ramps up equipment fleet with new DX380LC-7 machine
VALENICIA-based the Mediterranean Institute of Ecological Studies (IMEE) have expanded their machinery fleet with the addition of a brand-new Doosan DX380LC-7 crawler excavator. Renowned in the region for its first-class recycling services and capability, the waste operator runs several facilities, including a recycling plant, a treatment plant, a transfer centre, and an inert waste dump.
In recent years, the business has been moving towards the increased recycling of construction and demolition (C&D) waste material. To meet customer demand for recycled aggregates, IMEE have invested heavily in new plant, equipment, and facilities to ensure effective processing of the waste materials that they receive at their sites. 
'We are growing between 20-30% every year, so we needed a new excavator to work in our facilities and Doosan proved to be the best for the size of excavator to meet our needs, with  lower fuel consumption and a quality design,' said Nacho Llácer, managing director of IMEE.
'We need to load, unload, excavate and transport stockpiles to the crusher to recycle, collect the waste that arrives at our facilities, and carry out various jobs across the plant. Our operators are very happy with the new excavator - they appreciate the ease of operation and the additional comfort that comes from a new machine. The visibility, the cab, and the safety are outstanding elements, as well as the robustness.'
With IMEE's operation, which sees an average of 140 trucks and the movement of around 2,000 tonnes of material per day, the new 40-tonne DX380LC-7 excavator helps improve productivity, load and haul performance, and fuel consumption, thanks to its D-ECOPOWER technology. For added safety, the machine is equipped with a 360° camera system, large side mirrors, powerful work lights, and non-slip steps, platforms and safety rails on the upper structure.
In addition to the DX380LC-7, IMEE have purchased a Doosan DX170W-5 wheeled excavator for sorting waste materials effectively into different groups and identifying what can recovered for reuse. The machine, with a spacious cab and fully automatic climate control system, is powered by a six-cylinder, turbocharged Doosan DL06P water-cooled diesel engine and features exhaust gas recirculation (EGR) and selective catalyst reduction (SCR) after-treatment technologies without the need for a diesel particulate filter.