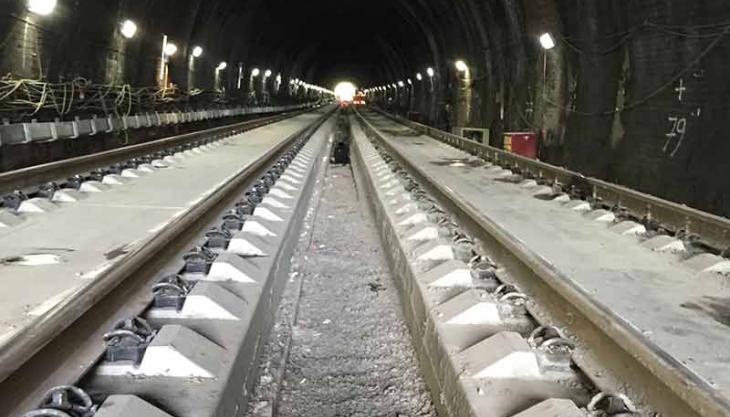 Innovative HOPEFlow Rail developed to help keep key Scottish rail upgrade on-track
HOPE Construction Materials have introduced a high-performance, rail-specific concrete which has been used for the first time as part of an innovative track-laying system for the mainline link between Glasgow and Edinburgh.
The company was approached to develop the bespoke mix to complement the innovative Slab Track Austria system and ensure rapid track replacement work in the 330m long Winchburgh Tunnel section of the track.
The floor of the Victorian tunnel had to be lowered to accommodate overhead cables as part of the electrification of the line, Scotland's busiest passenger route.
To meet the specifications of the project, Hope's technical research team designed HOPEFlow Rail, a high-performance, self-compacting concrete that has all the essential properties required for fixing the Slab Track system into place, including extended workability and high early strength.
Slab Track is a specialist precast-concrete rail system used widely to develop high-speed rail links throughout Europe. More than 470m of Slab Track has been laid on the Winchburgh Tunnel project (pictured).
As part of the Edinburgh to Glasgow Improvement Programme (EGIP), these enhancements are expected to make a significant difference for travellers, allowing the network to carry 30% more passengers between Scotland's two main cities, as well as stimulating growth and unlocking investment opportunities.
Hope believe this first application for their new HOPEFlow Rail product – which uses a blend of selected aggregates, cement and specialist admixtures – will be the start of many more rail-based infrastructure projects throughout the UK in the coming months.
David Morrow, the company's business manager for Scotland, said: 'When we were tasked with this challenge we were determined to make it work and bring another innovation to the sector by developing this high-performance and first-of-its-kind product.
'When designing HOPEFlow Rail we took into consideration all of the attributes needed for the concrete, ensuring it was strong, free-flowing and had a sufficient working time.
'We're proud to have our product used to develop the first Scottish high-speed mainline and we believe this will be the first of many projects which use the product and help to make a difference to rail improvements throughout the UK.'