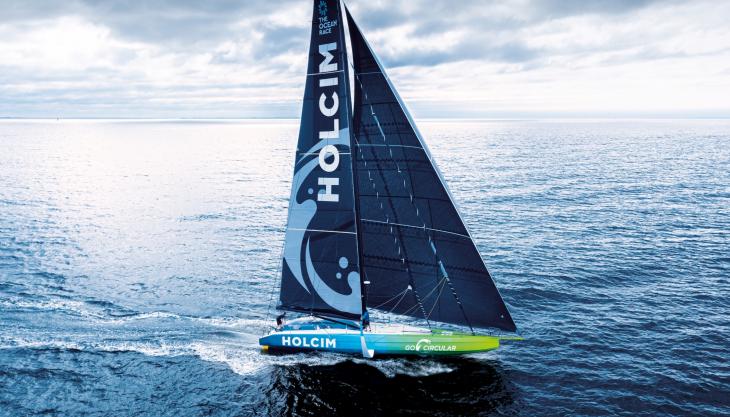 Company launches its first IMOCA racing boat to help accelerate shift to circular living
HOLCIM have entered offshore yacht racing with the launch of their first IMOCA race boat in Lorient, France, on a mission to 'Go Circular'. Led by skipper Kevin Escoffier, Holcim will compete in round-the-world races from The Ocean Race in 2023 to the Vendée Globe in 2024, with GO CIRCULAR building on the sailing legacy of PRB, who became part of the Holcim family earlier this year.
Kevin Escoffier, Team Holcim-PRB skipper, said: 'The Holcim-PRB team is ready to sail. Over the last 30 years, PRB has established itself as a leader in sailing. Now, with Holcim on board, we're taking the adventure to new international heights with GO CIRCULAR and The Ocean Race.
'We only have one planet, but we're living like we have two. I have seen first-hand what this means for our oceans, which have been part of my life since childhood. With GO CIRCULAR, we are calling for a shift towards more circular living to protect our precious ecosystems. This is close to my heart as a sailor and especially as a father.'
With GO CIRCULAR Holcim are on a mission to inspire action to preserve nature's ecosystems from ocean to land. To accelerate the shift to circular living it is driving an education programme empowering students and communities to take action while advancing marine science with water sampling throughout its races.
On the ocean, Holcim are already recovering marine plastic waste with their Circular Explorer, the first-of-its-kind, 100% solar-powered recycling catamaran operating in Manila Bay to clean up its coastal areas. On land, Holcim are engaging with urban leaders around the world with their Circular Cities Barometer to fast-track progress towards circular cities. Building on these initiatives, Holcim's GO CIRCULAR will amplify the company's call to action for more circular living.
Team Holcim-PRB will begin racing with the 2022 Route du Rhum and will enter its first round-the-world regatta with The Ocean Race in January 2023. The Ocean Race is a crewed regatta with stops in nine cities, from Alicante in Spain to Genova in Italy. Competitors will be especially challenged by its longest leg ever, from the Cape of Good Hope in South Africa to Itajaí in Brazil, representing a non-stop 23,613km stretch. In November 2024, Team Holcim-PRB will compete in the legendary solo round-the-world race the Vendée Globe.
GO CIRCULAR builds on the sailing legacy of PRB, which has sponsored ocean racing for 30 years and won two editions of the Vendée Globe, in 2000 with Michel Desjoyeaux and in 2004 with Vincent Riou. Team Holcim-PRB's skipper Kevin Escoffier is a recognized global sailor who participated in two editions of The Ocean Race, including a victory with the Dongfeng Race Team in 2018.