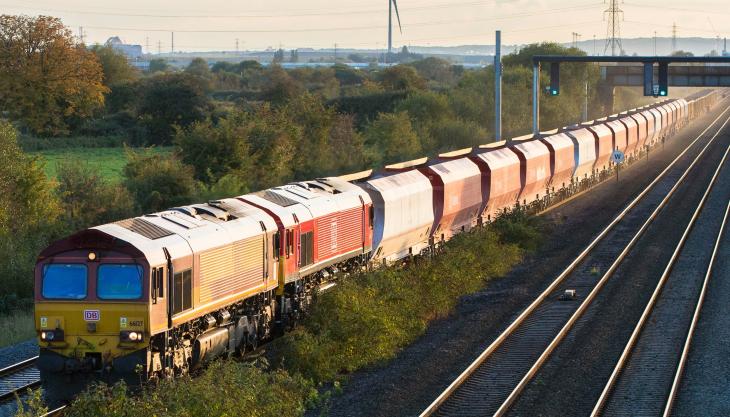 First jumbo train carrying limestone building materials leaves Cardiff for London and the South East

HISTORY has been made with the first jumbo train of 34 wagons departing from Associated British Ports rail terminal in Cardiff, South Wales, and travelling to Acton in London, saving the equivalent of more than 80 truck loads on some of the country's most congested roads.
Operated by DB Cargo UK and measuring almost half a mile in length, the train transported 2,300 tonnes of limestone building materials from CEMEX's Wenvoe and Taff's Well quarries, on the outskirts of Cardiff, for use in the production of asphalt and concrete in London and the South East.
The 662m long train required the use of two locomotives because of the inclines in the Severn Tunnel. Footage of the train leaving South Wales can be seen at: https://youtu.be/O0laWlYMrQ8
CEMEX UK rail and sea manager, Mark Grimshaw Smith, commented: 'This is the first freight train of this size ever to travel from South Wales. Usually only 21 wagons are used, but utilizing 60% more wagon capacity makes it more efficient and definitely more environmentally friendly.
'We hope we can use this type of jumbo train on other parts of the rail network where we have railheads in quarries and need to transport materials such as rock, sand and gravel into conurbations such as London. We look forward to working with Network Rail and DB Cargo UK to make this possible.'
David Fletcher, head of major projects at DB Cargo UK, said: 'Using longer trains makes rail an even more efficient and competitive mode of transport. The use of one path to move a longer train also releases capacity for other freight services on a busy network. DB Cargo UK are pleased to have worked with Network Rail to deliver this new service for CEMEX UK.'