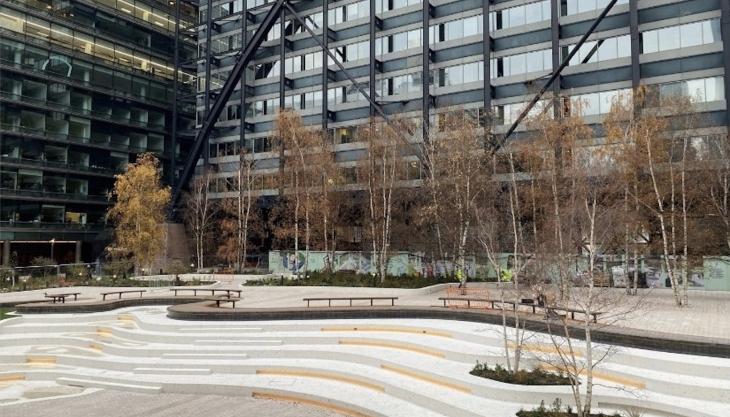 Lightweight concrete benefits Central London's latest green space at Exchange Square
CAPITAL Concrete have supplied specialist lightweight concrete for re-landscaping of Exchange Square, one of Central London's largest public spaces.
Designed by architects DSDHA and built by specialist landscape contractors Maylim, the redevelopment of Exchange Square includes a 1.5-acre landscaped park, combining nature with the area's distinctive architecture.
As well as creating a hub that offers new retail and event opportunities with amphitheatre seating, the project has a strong focus on sustainability and well-being and includes new planting and tree placement, increasing the amount of green space available in Broadgate.
Capital Concrete were chosen to supply the project as a result of their track record of working with customers on complex projects with specific specialist mix requirements.
For this project, a lightweight concrete was chosen that contained Euro-Agg's ARGEX expanded clay aggregates, which as well as being lightweight, promote biodiversity by supporting oxygen production and helping to absorb atmospheric pollution.
With the development taking place over Liverpool Street Station, it was especially important to install a high-strength, low-density material. Lightweight concrete's reduced structural loading made it an ideal choice, preventing excessive weight from affecting the railway station structure.
Jack Sindhu, technical manager for Capital Concrete, said: 'Being such a high-profile public space with heavy foot traffic, it was critical to use a high-performance concrete material possessing long-term durability. It is great to see this innovative sustainable product continue to take centre stage.'
This latest project builds on Capital Concrete's track record supplying a similar concrete mix for developments at King's Cross and Old Street Roundabout, both of which rely on the material's lightweight properties.