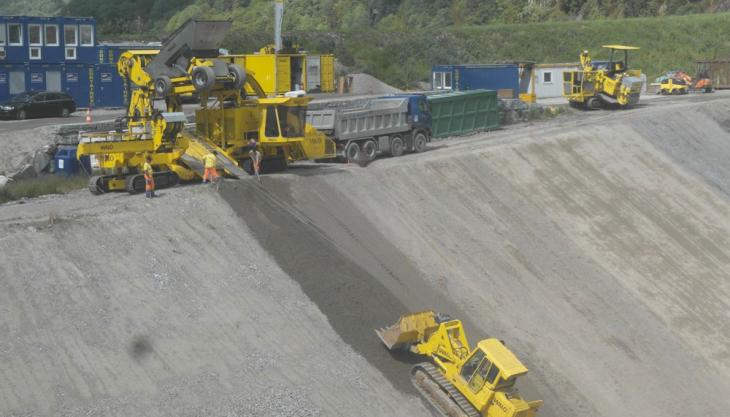 Extreme slopes present no problem for hydraulic asphalt engineering experts WALO at Lostallo landfill site
A NEW 10,000 square metre cell at a landfill site with extremely steep sides in Switzerland has recently been lined by hydraulic asphalt engineering experts WALO.
The company used its own specialist machinery and skilled operating team to line the slopes with dense asphaltic concrete (DAC), formulated in its laboratory in Zurich to a design mix specific to the project.
The Lostallo landfill site, covering a total area of around 30,000 square metres, is located in the district of Moesa in the Italian area of Switzerland, and the new cell has extremely steep slopes at a gradient of 1 in 1.5.
WALO were selected for the project as they have specific and proven technical expertise in working on very steep slopes around the world, and because environmental protection of the site is particularly crucial in a country where such issues are of paramount importance.
The company's DAC is a highly robust barrier lining system that is impermeable to both leachates and gases from solid waste landfill deposits, making it an ideal choice for the complete containment of the landfill waste at Lostallo.
The WALO team began by levelling the base and sides of the cell with an excavator and placing a foundation layer by bulldozer. The bulldozer was secured for working on the extreme slopes by one of WALO's 60-tonne winches.
Next, a clay layer (geological barrier) around 700–800mm thick was placed in four layers by WALO's asphalt paver and main winch. Then, two bituminous layers – an asphaltic binder layer and the DAC – were installed by WALO's winch and paver before being compacted by rollers on winches.
Commenting on the project, David Wilson, managing director of WALO UK, said: 'The double challenge presented by this project – the very steep slopes and the environmental considerations – made it perfect for WALO to showcase their expertise in both these fields. Our highly robust DAC will provide decades of impermeable sealing at this site.'