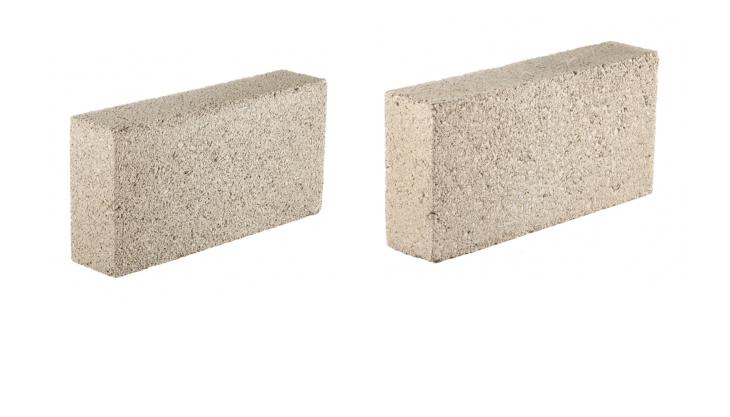 Company launches new eco-friendly concrete block range with Masterlite Pro Eco and Masterdenz Eco
AGGREGATE Industries have introduced their brand new 'Masterblock Eco' range, featuring two new concrete block products to help local authorities, house builders and self-builders achieve more sustainable builds.
Boasting at least a 30% carbon reduction compared with standard blocks, both Masterlite Pro Eco (pictured left) and Masterdenz Eco (pictured right) are manufactured using 20% non-primary materials, whilst offering the same structural performance.
The new products will be made to order at Aggregate Industries' North End site, near Cirencester. 
Although both are available in a solid format with a standard strength of 7.3N/mm sq, Masterlite Pro Eco has enhanced thermal efficiency properties, with a conductivity range of 0.57W/mK internally and 0.61W/mK externally. Masterlite Pro Eco is also available in either standard or paint-grade finish.
One hundred percent recyclable to reduce the amount of material sent to landfill, both Masterlite Pro Eco and Masterdenz Eco are suitable for use in either internal or external walls – making them suitable for plastered or rendered surfaces; with Masterlite Pro Eco also suitable for direct decoration as well as locations where a consistent close-textured face is required.
The launch of the Masterblock Eco range comes as Aggregate Industries respond to rising demand for sustainable construction materials as local authorities, house builders and self-builders come under pressure to meet stricter carbon reduction targets.
Gary Walsh, general manager for building products at Aggregate Industries, said: 'We're determined to be at the forefront of sustainability and have invested heavily in introducing new and innovative low-carbon construction materials.
'Offering a minimum 30% carbon footprint reduction compared with the MasterDenz and Masterlite Pro concrete blocks and made using non-primary materials, Masterlite Pro Eco and Masterdenz Eco are just the latest example of this.
'This is the first step on the journey to reduce the carbon footprint. We have ensured that our new Eco blocks comply with BS EN 771-3, using a recognized blended cement that conforms to BS EN 197-1. Doing this provides our customers with the assurance they are using a block with the proven durability expected from Masterblock's current ranges.
'We hope these solutions will enable our customers – local authorities, house builders and the self-build market – to create ever more sustainable structures.'
The new products will join the existing Masterblock family, which includes concrete block solutions such as Masterlite Pro, Masterlite Pro Fairfaced, Masterlite Ultra, Masterlite Pro Acoustic, and Masterdenz.