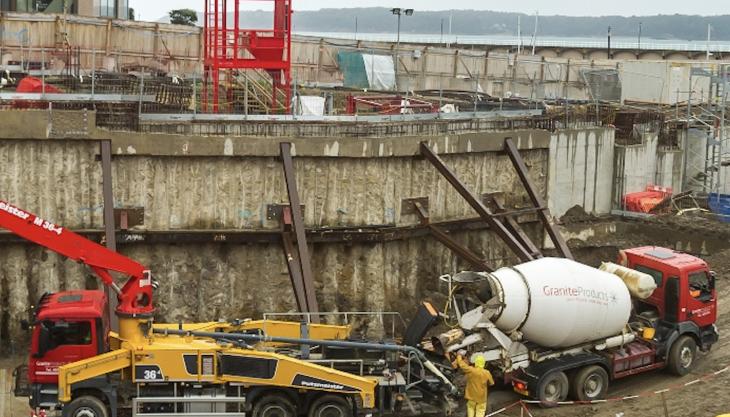 Company providing 22,000 cubic metres of concrete over three years for prestigious waterfront development
JERSEY-based Granite Products, part of the Brett Group, have commenced the supply of ready-mixed concrete to the prestigious Horizon development on the waterfront in St. Helier, as part of a contract with main contractors Legendre to supply 22,000 cubic metres of concrete over three years.
To date, some 5,200 cubic metres has been taken by sub-contractor and foundation specialists NSP Foundations Ltd for piling works at the site.
The Horizon development includes 280 luxury one-, two- and three-bedroom apartments and penthouses, a brand-new restaurant and retail quarter at the water's edge, and associated basement parking.
'This is a significant contract for Granite Products, secured following recent investment in a state-of-the-art, high-output concrete plant at La Gigoulande quarry site,' said Simon Clowes, general manager of Granite Products.
'Our new plant allows us to provide a fast, reliable service and to win long-term supply contracts with important construction projects on the island, such as the Horizon development.'
Granite Products have had a strong presence on the island of Jersey for more than 70 years, supplying the local construction market with hard stone, sand and gravel, and concrete.
Other major projects that the company has supplied in recent years include a control tower for Jersey airport and more than 500 cubic metres of concrete for the bunker slab at La Collette Energy from Waste facility, which is believed to be the largest single concrete pour on the island.