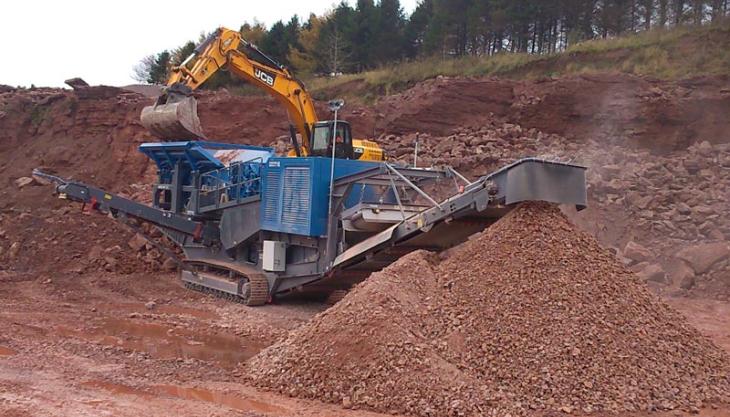 Scottish quarry operator strengthens fleet with addition of new Mobirex MR 122 Z impact crusher
GRANGE Quarry Ltd, based in Lockerbie, one of the largest suppliers of aggregates and ready-mixed concrete in the south of Scotland and north of England, have recently purchased a new Mobirex MR 122 Z impact crusher from Kleemann. The latest unit is not the first machine the company has acquired from Kleemann.
'Since 2012, we have been working successfully with a Mobicat MC 110 Z jaw crusher and are impressed with the quality of the end product,' said Stuart Dodd, owner and managing director of Grange Quarry. 'The mobile plant crushes whinstone (for road construction) with a maximum feed size of 600mm down to 125mm, at an output of around 200 tonnes/h.'
Grange Quarry have also used the Kleemann machines to develop their Kelhead Quarry, near Annan. The new MR 122 Z impact crusher has been in use since October 2013 crushing 600mm limestone breccia, produced by blasting, to a final grain size of 60mm. The crushed stone is mainly used as concrete aggregates and to produce high-quality crushed rock sand.
With an output of around 220 tonnes/h, the quarry operator is extremely satisfied with the MR 122 Z crusher. With its 250kW electric drive and 364kW diesel engine, the machine crushes heavily reinforced concrete just as easily as limestone blocks, making it suitable for concrete recycling.
Another key benefit is a standard vibrating discharge chute under the machine that reduces wear on the crusher discharge conveyor and, thereby, significantly increases the operational safety of the plant.
The high level of reliability was one of the decisive factors in Mr Dodd once again investing in a Kleemann plant, as was the economical operation of the machine. 'At Kelhead Quarry, the MR 122 Z model consumes around 35 litres of diesel per hour compared with our previous impact crusher of the same size which used 60 litres per hour. This has allowed us to keep costs under control and reduce our impact on the environment.'
There are also maintenance benefits for the aggregates producer. Both Kleemann products have easily accessible maintenance points, while all after-sales and servicing needs are met by the Wirtgen subsidiary based in Lincoln.
According to Grange Quarry, reliable operation, superior grain quality and simple operation are among the most important advantages of operating the Kleemann MR 122  Z impact crusher.