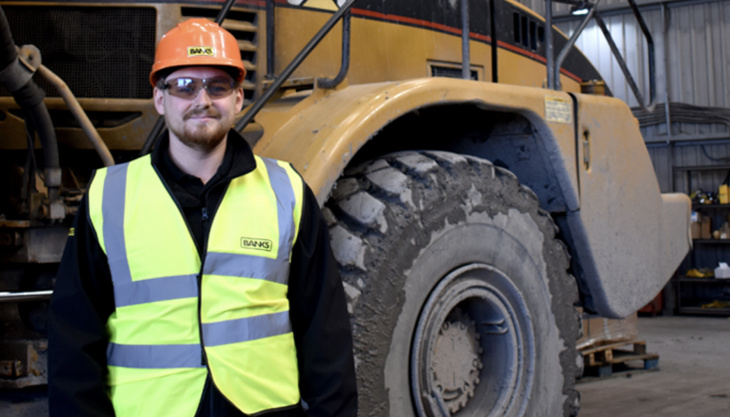 Local lad secures procurement position at Shotton surface mine after completing Banks apprenticeship
A YOUNG Bedlington graduate has won a role with Banks Mining after successfully completing a two-year apprenticeship. Liam Besford combined extensive practical on-the-job training with the plant support team at Banks' Shotton surface mine, near Cramlington, with online learning modules provided by Northumberland College.
As part of his apprenticeship, Mr Besford (pictured) has completed an NVQ Level Three in Business Administration, with the qualification including a project aimed at identifying new operational efficiencies at the Shotton site.
He is now a part of the team that is responsible for ensuring the equipment, spare parts and materials required to support the safe, efficient and responsible operation of the Shotton site are delivered when and where they are needed, and is the latest of several local apprentices to train at Shotton before going on to take positions with Banks.
Mr Besford, who has a degree in Accountancy & Finance from Sheffield University, works with a range of Banks' suppliers across the local area and further afield, helping to ensure that the company's annual multi-million-pound site budget for parts, servicing and plant hire is managed as efficiently and effectively as possible.
He said: 'Every day is different for our procurement team, with the items we need on site ranging from nuts, bolts and teabags right up to hugely complex engines and machine parts.
'Spending time with our highly skilled plant engineering teams enabled me to gain a lot of useful technical knowledge over the last couple of years and helped to put the procurement and asset-management systems that we have in place properly into context.
'Part of my NVQ involved looking at the ways in which we manage the servicing of our plant fleet and the ideas I've put forward will be factored into the planning that goes into the continuing development of this work.'
Adam Carter, plant support manager at Banks Mining, added: 'Liam is the latest in a long line of local young people who have been able to start developing their careers at our North East surface mines and his insight has made a significant contribution to the ways in which our procurement team operates.
'His commitment and work ethic during his apprenticeship have been very impressive. He has successfully balanced both his workload and his apprenticeship while maintaining a high level of support to both the plant and mining teams, and we're very pleased to have him as a part of the Shotton team.'
Gavin Styles, managing director of Banks Mining, said: 'Providing career opportunities for talented local young people clearly benefits both them and their employers, and we've seen at first hand the positive impact that apprentices can bring to businesses like ours.
'Banks Mining have been providing people in the North East with the chance to build long-term careers and support their families through our mining operations for more than four decades, and we're committed to continuing to do so if our Highthorn scheme is allows to proceed.'
Banks Mining are currently awaiting a decision from Rt Hon. Robert Jenrick MP, Secretary of State for Housing, Communities & Local Government, on whether their proposed Highthorn surface mine in Northumberland can go ahead, a project which would see at least 100 well-paid, full-time jobs created at the site as well as an £87 million investment into the Northumberland economy.