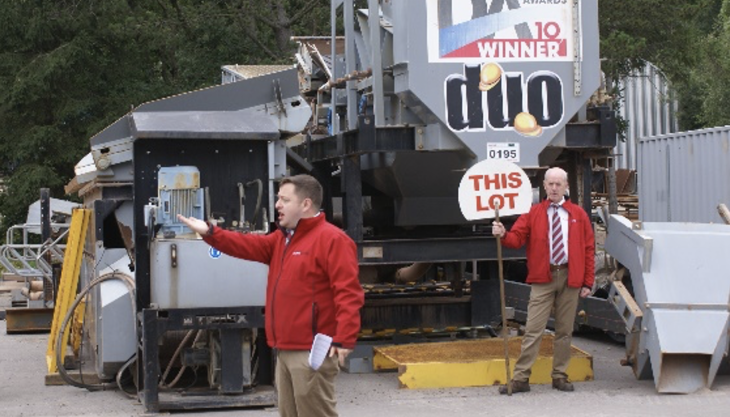 One-day washing plant sale generates £4 million hammer total during live online auction
THE recent one-day sale of specialist washing and recycling plant, screeners, crushers, excavators, loaders and ancillary aggregate processing equipment, held on 27 August at the Duo facility in Burton-upon-Trent, attracted a global audience and generated a £4 million hammer total.
The one-day sale was part of a 'stock refresh' ahead of an expansion programme Duo are planning at their new site in Coventry, where the latest aggregate processing, recycling machinery and ancillary plant equipment will be installed.
Up for sale was an inventory of major items from the Terex and Powerscreen washing and recycling range, including major components for wash plants, dewatering equipment, filter presses, filter tanks, sand plants, conveyors, screeners and crushers, among others.
In total, 669 bidders from more than 45 countries registered, with 94% (613) placing their bids online and 13% of bids coming from new bidders.
The hammer total for the sale was just over £4 million, with notable items being an M1700 tracked triple-deck three-way wash plant, a Powerscreen 2100 tracked twin-deck two-way screener/washer, and a Terex Aggwash 60-2 dual sand plant complete with feeder and conveyors.
David Betts, sales manager for Euro Auctions, said: 'Again, Euro Auctions have proven that they can operate in highly specialized sectors of the market. We understand this sector, the equipment, and the buying audience, and have demonstrated we can attract a specialist international audience.
'More importantly, this sale has also demonstrated that Euro Auctions are open for business 'on site', at one of our permanent sales arenas, 'online', or like the Duo sale, 'off site' at a client site.'