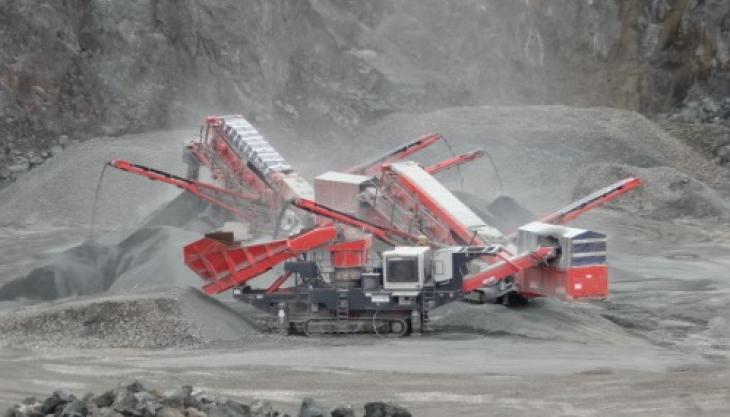 Extensive fleet of mobile crushing and screening machines helps deliver efficiencies for customers
IN today's aggregates market, quarry operators need an edge in maximizing their aggregate production, which has led to the use of specialist crushing and screening contractors becoming more widespread.
With more than 25 years' industry experience, Northern Ireland contractors G&G Ross have adopted the latest mobile crushing and screening technology from Sandvik Construction. This has allowed the company to offer a flexible and productive solution, delivering low cost per tonne and essential operational efficiencies for its customers.
G&G Ross have placed due emphasis on supporting their customers' equipment, but what has allowed the business to thrive is its own fleet of mobile crushers and screens. Graham Ross, founder and managing director of the company, explained: 'Initially, the business drew on my experience of Pegson and Metso equipment; it is what I was familiar with (as a service engineer) and both manufacturers make excellent machines. Getting the choice of crusher and screener right is essential for any contractor servicing the quarrying industry and I believe I had made the right choice.'
However, things changed in 2010 when Mr Ross was persuaded to take a closer look at another company's equipment, namely the mobile range from Sandvik Construction.
'I've known and respected the Sandvik range for years (previously Svedala, Extec and Fintec), but saw no reason to take a closer look,' he said. 'That was until I was persuaded to take a QJ340 tracked jaw crusher on demonstration and I was impressed.'
G&G Ross now operate an extensive fleet of Sandvik crushing and screening equipment, including: QJ340 and QJ341 tracked jaw crushers; QH331 and QH440 tracked cones; QA440 and QA450 tracked screeners; and a QE340 tracked scalper.
'The QH440 cone crusher has proved to be the most versatile machine and, depending on which machine we have feeding it, is the most productive,' said Mr Ross. 'The combination of the QH331 and the tracked Doublescreens (QA440 and QA451) is producing exceptional productivity, so much so we have had problems feeding them.
'Using one Doublescreen we are able to replace two traditional double-deck 20 x 5 three-way split screeners and achieve final product accuracy. In addition, if there is a change in production requirements the setup of the Doublescreen boxes (two independent screenboxes) helps make changing the mesh or carrying out repairs very easy.'
As well as the production benefits derived from the Sandvik equipment, G&G Ross are also delivering cost efficiencies thanks to the fuel efficiency of the machines.
Mr Ross explained: 'The QH440 uses nearly half the diesel of a comparative cone crusher. On an average day it uses 50 litres/h, whereas the machine it replaced was using over 80 litres. This not only produces costs savings, but also lowers the carbon footprint for my customers and ourselves.'
The combination of the Sandvik cones and Doublescreens has proved to be increasingly important for G&G Ross customers, as achieving the lowest cost per tonne is high on many of their agendas.
'The ability to use a flexible machine such as the QH331, together with the Sandvik Doublescreen, means our customers don't have to use as much equipment for a job,' commented Mr Ross. 'This improves their productivity and profitability, and my key customers – Roadstone and the McCullan Group – won't have me use anything else.'