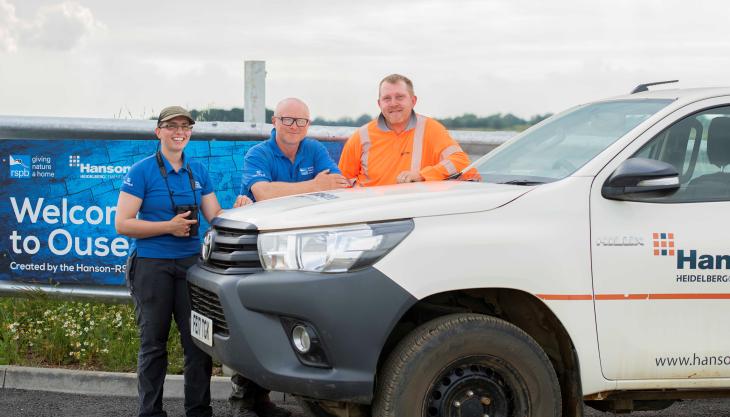 New visitor facilities for Hanson-RSPB wetland restoration project at Needingworth in Cambridgeshire
NEW visitor facilities are being opened at RSPB Ouse Fen nature reserve in Cambridgeshire to allow the public to visit the latest restored areas of the wetland.
Hanson and the RSPB are creating the UK's biggest reed bed – an extremely rare habitat, much of which has been lost in Britain – and the opening of a new entrance way and two new trails provides new routes to the heart of the nature reserve.
At the new entrance is a short access-for-all path to a viewpoint and picnic area, with onward routes to new trails and connections to long-distance public rights of way.
Earlier this year, Hanson transferred a further 80ha of restored land from their Needingworth Quarry to the nature reserve, which now covers 298ha. By the time the project is complete in 2030, this is expected to more than double.
Hanson UK unit manager Hilton Law said: 'We're proud to be a part of this important project with the RSPB to create thriving new habitat for wildlife. It's great to see the new entrance opening to allow visitors to enjoy the site as much as we have enjoyed working with the RSPB to create it.'
Jonathan Taylor, RSPB senior project manager, said: 'Our partnership project with Hanson is the largest planned nature conservation restoration scheme of its kind in Europe. It shows how collaborative working between industry and the conservation sector can deliver bigger and better habitat restoration.'
Over the lifetime of the project, Hanson will extract more than 28 million tonnes of sand and gravel at Needingworth Quarry. As quarrying progresses, Hanson are restoring the land to wildlife-rich wetland habitat and handing it over to the RSPB to be managed for and enjoyed by wildlife and people alike.
RSPB Ouse Fen is already home to a nationally important population of bitterns, a rare heron family species, as well as other iconic wetland wildlife including marsh harriers, bearded tits, otters and water voles.