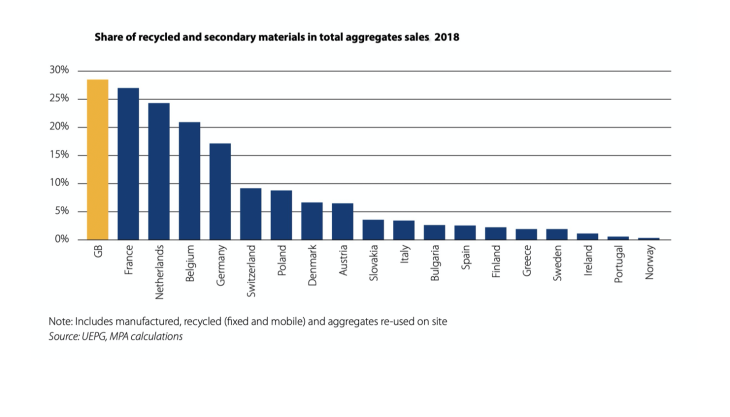 MPA says GB well ahead of the average but 70% of future demand will still have to be met by primary aggregates
RECYCLED and secondary sources of construction aggregates supplied 28% of total demand in Great Britain in 2018, well ahead of the European average. This is an ongoing success story for the mineral products industry and reflects the sector's continued commitment to recycling and the circular economy.

In a new report, the Mineral Products Association (MPA) estimates that in 2018, a total of 71 million tonnes of aggregates from a range of sources have been reused in construction in Great Britain, 90% (64 million tonnes) of which originated directly from construction activity, through demolition work and road repairs.
Virtually all construction and demolition waste which can be recycled as aggregates is already being used in accordance with technical and safety standards, leaving limited opportunities for a significantly higher contribution of these materials into the aggregates markets.

The remaining 10% of these aggregates materials are generated as part of other industrial or extractive processes, including china and ball clay waste as well as ash from various sources, such as incineration of municipal waste or the manufacture of iron and steel.
Whilst there might be some opportunities for a greater contribution of these materials into the wider aggregates market, for instance from china and ball clay waste, stockpiles are located away from the main markets and their use and contribution could only increase with improvements to transport infrastructure.
Meanwhile, secondary aggregates sourced from coal-fired power stations are likely to see a continual decline in availability due to the closure of coal power stations.

The MPA has expressed concern the general paucity of regularly collected and compiled statistics, especially regarding recycled and secondary aggregate use at a national scale, and says the absence of regular monitoring data about material arisings and their use makes it difficult to track the industry's continuing progress or identify areas where further improvements may be realized through process or regulatory changes.
This, in turn, it says, can result in a wider misunderstanding and misrepresentation of the industry's role in construction, both in terms of primary resource needs and the potential for greater use of materials that are either recycled or from secondary sources as part of the sector's contribution towards green growth.

In response, the MPA has developed a methodology to track the contribution of recycled and secondary aggregates to overall aggregates supply, with the aim of addressing this data gap by modelling available market data.
The MPA's director of economic affairs, Aurelie Delannoy, said: 'Our industry can be proud of the leading role it is playing internationally in maximizing the recycling of construction and demolition waste as aggregates. Taken together with the restoration of mineral extraction sites to beneficial after use, the industry is delivering sustainable environmental results whilst others just talk a good game.
'Having achieved what is likely to be the most we can recover from the waste stream, the focus now has to be on moving recycled and secondary waste up the value chain, and accepting that around 70% of future demand has to be supplied by primary aggregates through the planning system. The MPA has submitted proposals to reform the system as the replenishment of land-won reserves, particularly sand and gravel, continues to be unsteady and inadequate.'
The new MPA report, 'The Contribution of Recycled and Secondary Materials to Total Aggregates Supply in Great Britain in 2018', can be downloaded below.