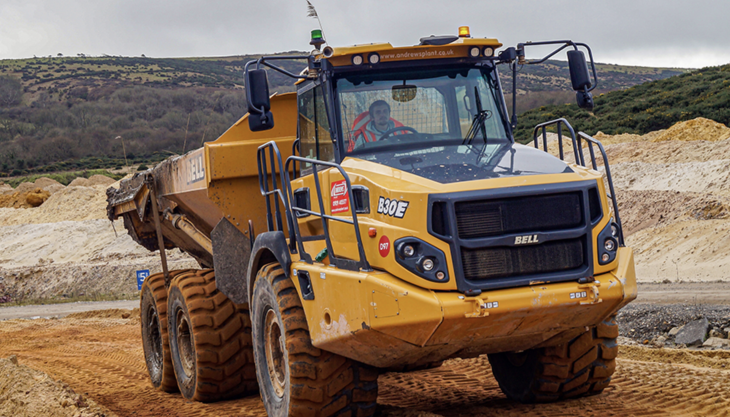 Bell articulated dumptrucks provide operational efficiency for Dorset-based Andrews Plant Hire
ANDREWS Plant Hire, a family-rum business based in Dorset, have been managing the overburden stripping and material handling contracts for several quarries in the south and south west of England for more than 40 years.
In 2015, company owner Peter Andrews started running used Bell B25D trucks on a load and haul contract in a Devon clay quarry, which proved to be a very successful move.
The noticeable improvement in productivity and low fuel usage spurred him on to switch to Bell from his usual articulated dumptruck (ADT) supplier in 2018 when he purchased three new B30E ADTs for a number of existing load and haul contracts. In 2020 he added two more of the trusted B30E dumptrucks to the fleet.
'Since we invested in Bell dumptrucks, we have noticed a real difference in productivity and particularly fuel efficiency. We can see from the machine telematics that this equates to a huge 17% saving on fuel consumption.
'To put that into context, it means we can run a whole shift without refuelling, which wasn't possible with our last brand of dumptrucks. That saves us – and our clients – time, inconvenience, and money.'
When Andrews Plant Hire's contract in the Devon clay quarry was renewed in 2020, Mr Andrews had no hesitation in ordering five new B25Es after each of his original used B25E ADTs had successfully completed between 11,000 and 15,000 hours without issue.
According to Mr Andrews, the beauty of working with Bell Equipment is not just machine quality and efficiency, but also the customer care and back-up.
'Every machine on the market will have an issue now and then, and Bell are always very quick to respond,' he said. 'When we need a service engineer, we never have to wait long. Downtime can be expensive, and Bell ensure this is kept to a minimum.'
Mr Andrew's operators agree that the Bell machines provide an exceptional operator environment, making special mention of the Comfort Ride feature that provides a smooth feel to the truck's operation.
'For long-haul drivers in the cab all day, it makes a real difference to sit in a cab designed around the operator.'
Every Bell dumptruck specified by Andrews Plant Hire is supplied with a Bell Care Package to ensure the units are kept in top condition and residual value is maximized.
New machines also feature Bell Equipment's Fleetm@tic fleet-management tool, which constantly gathers machine health data, provides real-time tracking and helps to identify the precise loads carried and fuel used each day.
Andrews Plant Hire's ADT fleet is now wholly Bell and consists of 14 machines with a further two B30Es on order for delivery later this year.