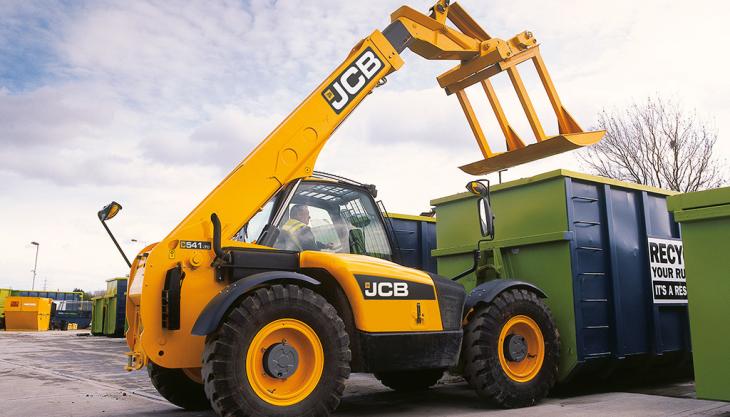 JCB sales manager David Banks offers some guidance for recycling operators seeking a suitable machine
AS waste and recycling throughputs increase and sites expand, demand for wheel loaders is growing. But what should you look for when seeking a machine that will deliver optimum performance across your business? 
There are five key areas to consider: productivity; power; safety; operator comfort; and reliability.
1. Productivity
Waste and recycling site operators demand that all equipment performs consistently at peak levels of productivity and that means keeping downtime to an absolute minimum. It will help to limit downtime if the design of the vehicle allows maintenance or servicing work to be undertaken as easily as possible, so it is sensible to choose a loader with a single-piece bonnet that makes accessing the diesel and DEF (Diesel Exhaust Fluid) tanks straightforward.
Once under the bonnet a machine fitted with group test ports will ensure that checking brake, steering and hydraulic system pressures is easy, while an accessible main fuse box will also slash servicing time further. 
Consider the loader's braking system too. Braking systems that use full dual circuit hydraulics with multiple oil-immersed discs will be virtually maintenance-free throughout the wheeled loader's lifespan.
2. Power
Loading shovels used on waste and recycling sites will benefit from plenty of low-end torque, maintained over a wide power band. When such a power unit is installed into a machine manufactured from lightweight materials, operators expect an excellent power-to-weight ratio.
For fuel economy it is important that the wheel loader has an engine idle shutdown feature that can safely apply the brakes and turn the machine off after a programmable amount of time.
Fuel consumption can be further reduced if the machine has a hydraulic cooling fan, which automatically reacts to ambient temperature and adjusts the wheel loader's fan speed to optimize cooling and reduce fuel consumption. An additional benefit is that it will also lower on-site noise.
3. Safety
On-site safety is paramount, so to ensure that the site manager chooses a mobile plant that has been designed with the well being of the operator and other site workers in mind, look for the following:
Inclined and equally spaced access steps, complemented by well positioned grab handles that ensure three points of contact at all times;
Rear-view mirrors mounted in front of the A-pillars to improve visibility. Rear view monitors are worth considering on busy sites where wheeled loaders often work around pedestrian staff;
Interior mirrors, heated exterior mirrors and bonnet mirrors that combine to give views to every corner; 
Fender flaps designed to keep spray to a minimum.
In addition, to reduce the risk of collisions, it is worth considering technology that alerts the operator to any pedestrian traffic that may be close to the area where the loader is working. For example, proximity braking systems can be fitted to multiple machines on a single site and automatically sound an alarm in the cab and apply the vehicle's brakes if a person enters a pre-set exclusion zone around the machine. 
Some advanced proximity braking systems also deliver a warning to the at-risk pedestrian via a vibrating transponder attached to their safety helmet.
4. Operator comfort
Wheel loaders work long, hard shifts on busy, noisy and dusty sites, so it is important that the operator has a spacious cab which is comfortable, quiet and designed to provide the highest levels of all-round visibility. Look for an isolator-mounted cab, compliant with ROPS/FOPS standards and pressurized against dust that offers superior visibility from the bucket to the rear.
To reduce operator fatigue in the most demanding shifts, seat-mounted controls are hugely beneficial and it is important that the driver has good visibility of efficiency data (eg fuel use). Full colour LCD screens are ideal for providing operating menus and can act as a monitor for a rear-view camera.
5. Robustness and reliability
A typical waste site presents an arduous environment for materials-handling vehicles so look for extra guarding for the cab and lighting, underbelly protection for the driveline and transmission, and heavy-duty puncture-resistant tyres. 
Robust design will be indicated by an articulation joint with a heavy-duty box section, a heavy-duty centre pin and oversized bush, as well as twin taper roller bearings on the bottom box joints. This setup can easily tolerate vertical and horizontal loadings. Hoses should be neatly routed and clamped through the articulation joint, well away from any pinch points.
A counterweight designed to be larger than the bonnet will protect the rear of the loader, including the rear lights and cooling pack, from damage. 
JCB's Wastemaster wheel loader line-up extends from the 9-tonne 411 to the 20-tonne 457, which is designed to work in high-output transfer stations and materials recovery facilities, where large volumes of material need to be handled. 
These wheel loaders have been designed to meet the demands of working on arduous sites and feature front/rear light guards, belly guards, a full front screen guard, a carbon filter, a wide core cooling pack and an adjustable hydraulic reversing fan.