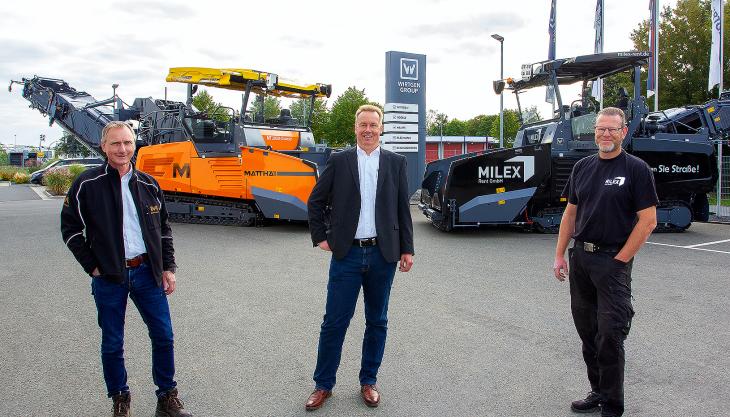 New MT 3000-3i PowerFeeder machines go to Matthäi Bauunternehmen and MILEX Rent
REPRESENTATIVES from contractors Matthäi Bauunternehmen GmbH & Co. KG and construction machinery leasing company MILEX Rent GmbH have taken delivery of the world's first new PowerFeeders from Joseph Vögele AG.
Heiko Henschel, head of machine technology at Matthäi Bauunternehmen took delivery of the first MT 3000-3i Offset with pivoting conveyor, whilst Mike Wilken from MILEX Rent took delivery of the first MT 3000-3i Standard. The Matthäi Group have already ordered two more Offset material feeders plus a Standard, whilst MILEX Rent have also ordered an Offset model.
Matthäi aim to use their new fleet mainly to equip large job sites and to conduct Vögele's so-called InLine Pave method, which allows hot-to-hot paving of binder and surface courses in one step. The MT 3000-3i Offset is perfectly set up for InLine Pave train requirements, but can also be used for other applications, including the parallel feeding of two pavers for hot-to-hot paving or the supply of material to a single paver.
'We are completing road construction projects with a wide range of requirements all over Germany, which was why, in the end, the universal potential applications of the MT 3000-3i were a key factor in our decision to purchase the Vögele material feeder,' said Mr Henschel. 'Apart from that, the Dash-3 generation has a great many automatic functions which make our projects even more efficient and effectively increase paving quality.'
For MILEX Rent, the key factors were the high quality and reliability of the machines. 'As service providers, we have to guarantee that our machines work absolutely perfectly on our customers' projects. We have always had extremely positive experience with Vögele pavers and material feeders up to now,' said Mr Wilken. 'Moreover, compared with their predecessors, the new PowerFeeders are even easier to operate and require significantly less cleaning and maintenance. As a leasing company, these are important benefits for us.'
Vögele developed the new material feeders in close collaboration with their customers. Apart from equipping them with the efficient and ergonomic Dash-3 machine concept, the manufacturer has also, among other things, optimized the material handling concept: the new design of receiving hopper, improved conveyor belt control and effective belt heating system allow material to be unloaded and conveyed rapidly without loss – whilst simultaneously reducing wear. Vögele have also reduced the number of adjustment and service points, colour-coded them and improved access to areas requiring cleaning.
Both Matthäi and MILEX Rent have been Vögele customers for many years. Matthäi already own numerous Vögele pavers and other Wirtgen Group machines, whilst MILEX Rent have relied on the company's pavers and material feeders since starting their operations in 2011.
'Quite apart from the reliable machine technology, we appreciate the good service, rapid provision of spare parts and support on difficult job sites,' added Mr Henschel. 'If required, we can lease additional machines, and in the case of machines we don't use that often, that represents a significant benefit.'