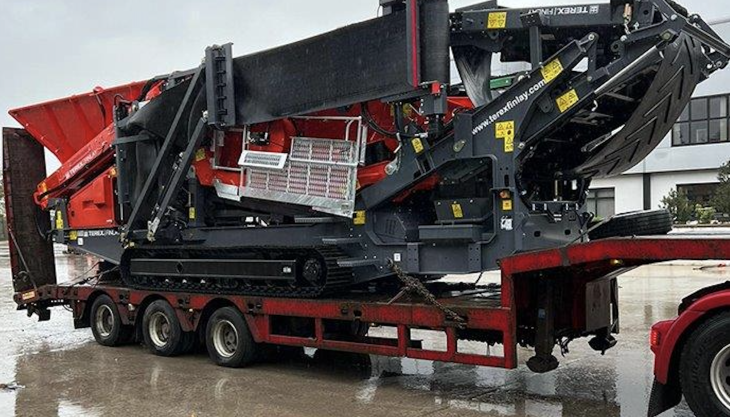 Hungarian dealer takes first 870 scalper production unit to roll off Terex Dungannon production line
THE first Terex Finlay 870 scalper production model has tracked off the Terex Dungannon production line and is already on its way to MRE-H Kft, the company's dealer in Hungary.
The highly versatile and flexible Terex Finlay 870 tracked scalper is a compact and aggressive forward-facing heavy-duty screen for primary and secondary screening in applications such as aggregates, sand and gravel, topsoil, and construction and demolition waste recycling, and is well suited on sites where space is at a premium.
Terex Finlay say the machine has been designed to meet the requirements of both large- and small-scale operators looking for a high-performance screen with a small footprint that is easy to operate and transport.
Suitable for with two- or 3-way split configurations, key features of the 870 scalper screenbox include: two 4.1m x 1.22m (13ft 6in x 4ft) screen decks with a total screening area of 9.74 sq m (105 sq ft); a hydraulically adjusted angle of 14° to 18°; accepts bofor bars, screenharps, woven mesh, punch plate, and cascade fingers; and has discharge end can be hydraulically raised to facilitate efficient and easy screen media access/changes.
In addition, T-Link telematics hardware and software is fitted as standard on the Terex Finlay 870 scalper and comes with a free seven-year data subscription.