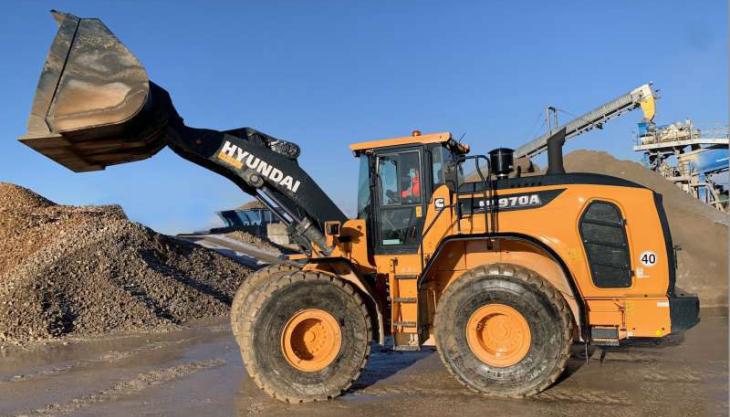 French demolition contractor takes delivery of new A-series HL970A wheel loader
POULLARD have purchased their first-ever Hyundai wheel loader and Stéphane Poullard, chairman of the contracting business, is still singing the praises of the new HL970A since taking delivery of the machine earlier this year.
Based in Lèves, some 48 miles southwest of Paris, the family-run business was founded by Alain Poullard (Stéphane's father) in 1979 and today specializes in demolition, infrastructure (roads/utilities) and landscaping projects.
The company has developed and grown steadily over the years, with the creation of a specialist subsidiary and the opening of Granudem recycling centre in Chartres-Poisvilliers.
Praising the performance of the new Hyundai HL970A wheel loader, Stéphane Poullard commented: 'What I liked the most was the 360-degree view provided by Hyundai's AAVM system. The strong point on this machine is safety - something genuinely important to me.
'Mainly used at the company's recycling site, it also features a weighing system and a 4,500-litre capacity bucket, both of which are perfect for my busines.'
Equipped with a new Stage V engine platform to comply with current EU emissions levels, the HL970A loading shovel has been specially designed for long-term sturdiness and reliability to help machinery/plant owners reduce their operating costs and improve productivity.
The 24-tonne A-series machine is powered by a Cummins L9 engine that delivers a gross power output of 325hp (242kW) at 2,100 rev/min. The HL970A model is equipped with a 4.20 cubic-metre capacity bucket and has a bucket breakout force of 21,715kg.
The cab, which has been ergonomically designed to optimize operator comfort, features a fully adjustable seat and armrest with air suspension and heating as standard, along with a simple and intuitive digitalized instrument panel.