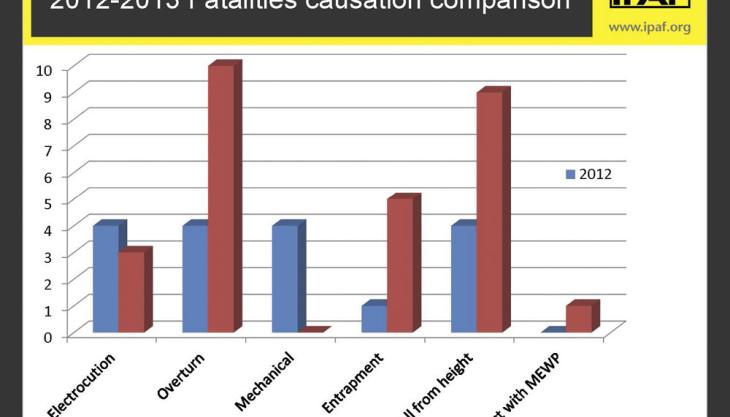 IPAF database reports 28 fatalities involving aerial platforms worldwide for the first six months of 2013
DURING the first half of 2013, there were 28 fatalities worldwide involving mobile elevating work platforms (MEWPs), also known as aerial work platforms (AWPs), according to findings from International Powered Access Federation's accident database.
The main causes of these fatalities were: overturn (10), fall from height (9), entrapment (5), electrocution (3), and impact with MEWP (1). Thirteen of the fatalities involved booms, 10 involved scissor lifts, and three involved vehicle mounts. In two cases, the machine type was unknown.
Of these fatalities, 13 occurred in the US, two each in France, Germany, the Netherlands and the UK, and one each in Armenia, Canada, Ireland, Malaysia, Norway, Spain and the UAE.
While releasing these findings, the International Powered Access Federation (IPAF) also updated the 2012 preliminary results following the reporting of a previously unrecorded fatal accident in Canada in October 2012. This brings the total fatalities in 2012 to 32, instead of the 31 initially reported.
Compared with the first half of 2012, which saw 17 fatalities reported, the number of fatalities reported for the first half of 2013 has increased by about 65%. IPAF believes that the accident reporting project is capturing more data, not necessarily that there are more accidents.
While the main causes of fatalities were fairly evenly spread in the first half of 2012, the first half of 2013 saw a rise in the number of fatalities resulting from overturn and fall from height. The fatalities in the first half of 2012 involved more booms and vehicle mounts, while those in the first half of 2013 involved more booms and scissor lifts.
'Findings from IPAF's rental market reports lead us to estimate that there are more than one million MEWPs in the world,' said IPAF CEO Tim Whiteman. 'Every fatality is one too many, but these figures show that powered access equipment remains a safe way to carry out temporary work at height.'
'The accuracy of the data relies upon those using MEWPs and other interested parties to report any known fatal accidents to IPAF at www.ipaf.org/accident or to an IPAF member of staff,' said IPAF technical officer Chris Wraith. 'The comprehensiveness of the data cannot be guaranteed, but where appropriate, action is taken to verify the facts. The data is updated should relevant information become available.'
IPAF's accident data is based on information collected in a number of ways: directly reported to the IPAF accident database, information obtained by IPAF staff worldwide, and information collated from press releases and news reports.
All manufacturers, rental companies, contractors and users are encouraged to report any known fatal and serious accidents involving mobile elevating work platforms (MEWPs) and mast climbing work platforms (MCWPs) worldwide at the IPAF accident database. The project is open to IPAF members and non-members, and includes an option for anonymous reporting.
All data collected is confidential and none of the detail of any accident is shared with third parties or disclosed to safety authorities unless required to by legal writ. The only exception to this is that manufacturers will be given basic data if a machine manufactured by their company is involved in a fatal accident.