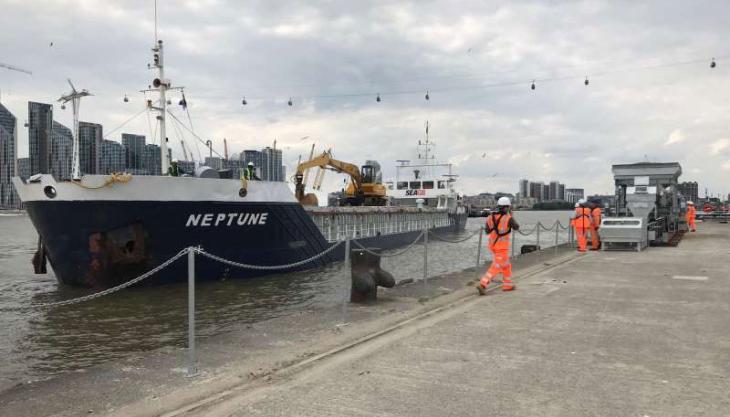 Milestone moment for Brett Aggregates' new hub on the river Thames in East London
PERUVIAN Wharf – Brett Aggregates' new hub site on the river Thames in East London – reached a significant milestone on 20 May when it took delivery of its first shipment of aggregate brought in by river from the company's Cliffe terminal on the Thames Estuary in north Kent.
Neptune, a self-discharging coaster vessel based in Faversham, Kent, transported 2,150 tonnes of sand in readiness for the commencement of operations at Capital Concrete's brand-new Silvertown concrete batching plant, which is situated at the wharf site.
With the capacity to produce 200 cubic metres of wet-batched concrete per hour, the river-fed Silvertown plant is set to fulfil an important role in helping to meet the demand for construction materials for housing and infrastructure projects in London, while minimizing the impacts on local highways and air quality caused by construction traffic.
Peruvian Wharf is one of 50 wharf sites in the capital that are currently safeguarded for cargo handling by the Mayor of London's safeguarding policy, which is designed to protect strategically located sites along the Thames from other types of development, such as the construction of residential and commercial buildings, to ensure that operational facilities are in place to move goods and materials in and out of London by sustainable river transportation, thus reducing road traffic.
The 8-acre Peruvian Wharf site had lain vacant for 17 years but was purchased in 2016 by the Port of London Authority and Brett Aggregates subsequently leased part of the site, including the 200m quay, to establish a river-fed aggregates hub with a high-output concrete batching plant in the heart of East London.
'Without safeguarding of wharves, key sites will be lost, forcing projects to be supplied by road,' said Oliver Brown, development director at Brett Aggregates. 'It is vital for the future of London that river freight is encouraged, and more freight is moved off congested London roads.'
The development of Peruvian Wharf is part of Brett Aggregates' expansion of marine and river-borne aggregates and related products, and delivery of materials into London by river and rail, as Mr Brown explained: 'We have developed a new rail-fed concrete plant at Wembley, this new river-fed concrete plant at Peruvian Wharf and we are continuing to invest in further river- and rail-related developments, helping to meet government objectives to transport critical goods by sustainable methods where possible to do so.'
Processed aggregates from Brett Aggregates Cliffe site will be brought into Peruvian Wharf by a variety of vessels, including barges and self-discharging coasters, to feed Capital Concrete's Silvertown high-output batching plant, which is ideally located to supply the busy construction market in Central and East London with minimum road miles.
'A great deal of work and investment has gone into reactivating Peruvian Wharf and creating the state-of-the-art facility we see today,' commented Jonathan Akehurst, business development manager at Brett Aggregates.
'Dredging work was carried out in November, the river wall has been repaired and the jetty upgraded. A new offloading machine, receipt hopper and modern conveyor system have been installed, as well as purpose-built aggregate storage bays, and the whole site has been hard surfaced.
'The new Capital Concrete batching plant is in place and will be ready to commence production this month [June]. All these works have been achieved in the context of a close working relationship with the Port of London Authority, which is eager to ensure the success of safeguarded sites such as Peruvian Wharf.'