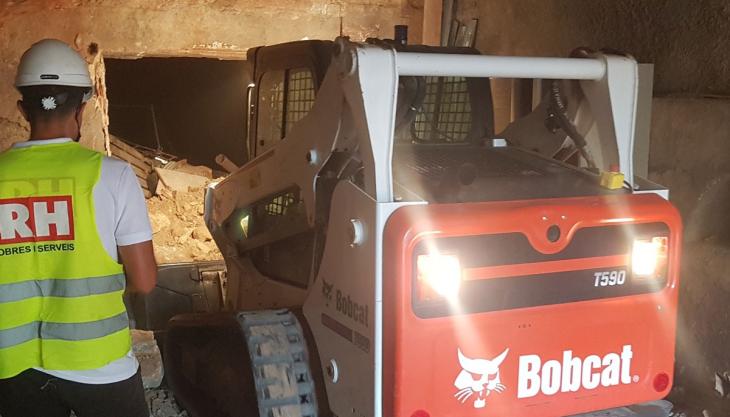 Obras y Construcciones Corbera take delivery of the country's first MaxControl system
OBRAS y Construcciones Corbera have invested in Bobcat's new MaxControl remote-control system – the first to be sold in Spain. MaxControl is an exclusive hardware kit from Bobcat which, when combined with an iOS application, allows the operator to control Bobcat compact loaders remotely, using an iPhone or iPad.
Contractors Obras y Construcciones Corbera were impressed by the versatility of the remote-control capabilities that the app could give them, thanks to the total visibility of the working space that is offers and, above all, the safety and security provided by this new way of working. This has been particularly useful in some concrete projects as the peripheral vision of the work is considerably improved by being outside the machine.
MaxControl has allowed the company to carry out special jobs that require greater safety and working in confined spaces with reduced visibility. The new remote-control system, which has been installed on a Bobcat T590 compact loader, is also suited to demolition works and finishing new pavements, providing Obras y Construcciones Corbera with more precise finishes and in less time.
'It's fantastic, very easy to assemble and disassemble, and to use - it's like driving a remote-controlled car, but always with great care,' said Eduard Heredia, manager of Obras y Construcciones Corbera.
'The MaxControl system is very useful and versatile as I can use it with the bucket or with a variety of Bobcat attachments to carry out different tasks safely such as clearing with a brush or using a wheel saw.'
The MaxControl unit is easy to connect and once the software is installed, the operator can access machine information on their iPhones/iPads with the ability the operate the compact loader and attachments with ease.
In remote areas with little connectivity, such as this underground passage, the system keeps the operator registered for 12 hours of operation and works in a range of up to 100m.
As for the Bobcat T590 compact loader, the machine is ideal for this type of task with limited space, thanks to its compact size, manoeuvrability, stability whilst providing high levels of power, breakout force and lifting capacity for handling the fill material.