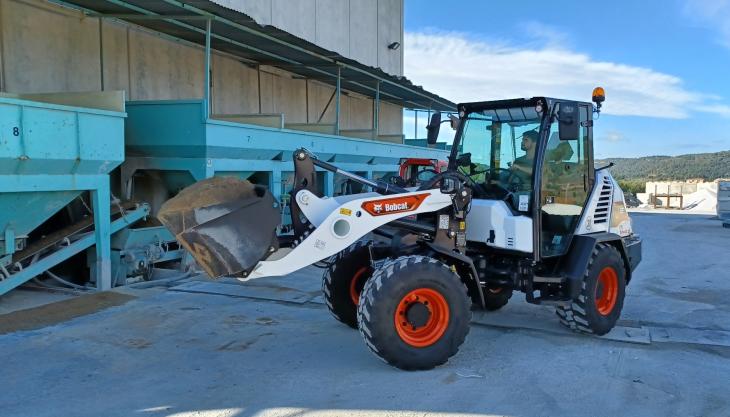 Spanish precast concrete producer takes delivery of new Bobcat compact wheel loader
MOSAICS Ubasart have become the first company in Spain to purchase a new Bobcat L85 compact wheel loader. Originally established in 1950 in Moià (Barcelona) as a small manufacturer of mosaic tiles, today the company specializes the production of precast architectural concrete and glass-reinforced concrete (GRC) panels.
The L85 is suitable for a multitude of applications, but Mosaics Ubasart use the machine to feed 10 hoppers with mixtures of 80 different materials for the manufacture of precast concrete. It is estimated that the L85 moves around 2,000 tonnes of material every year.
'We chose this model for its dimensions and its features, and for its agility, speed, and comfort, among other characteristics,' said Bertomeu Ubasart, manager and owner of Mosaics Ubasart.
'The L85 provides very good visibility from inside the cab to all points of the machine, increasing safety in the work environment, and is very fast at carrying out the tasks of collecting and unloading material in the hoppers, which saves us considerable time in our daily work.'
The loader is equipped as standard with the Power Quick-Tach system, which is compatible with widely used industry-standard couplers and allows the operator to change attachments without getting out of the machine, enhancing operator comfort and safety.
Mr Ubasart added that the locations of all the mechanical components, the motor, the pumps etc are very accessible, which ensures maintenance of the machine is very easy to carry out.
Designed around the operator, the fully enclosed and pressurized cab on the L85 provides superior comfort, easy operation, and meets the strictest FOPS II safety requirements.
Seat and hand controls can be easily adjusted to suit the operator's needs, with the joystick position being adjustable horizontally and integrated in the operator's suspension seat, whilst the steering column is adjustable in both horizontal and vertical directions.