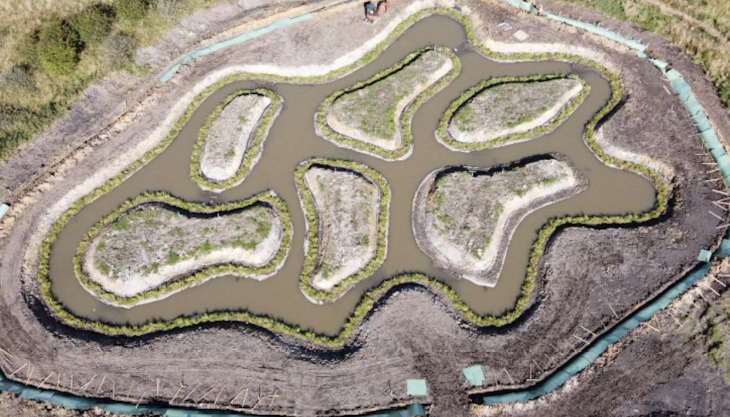 Recycling and waste-management firm creating new habitats for priority species at Greengairs Landfill
 
FCC Environment, one of the UK's leading recycling and waste-management companies, are rehoming colonies of water voles as part of their restoration work to support the long-term development of their Greengairs Landfill site in North Lanarkshire, Scotland.
Water voles are a priority species for conservation action in the UK, being among the most threatened species, and their places of shelter are protected.
As part of the restoration of the Greengairs site, FCC Environment will relocate water voles that currently inhabit the landfill into a number of water bodies around the site's periphery and into a fully engineered, bespoke habitat. The voles are due to be moved to their new home once the vegetation is sufficiently established, potentially in spring 2021.
The purpose-built habitat was constructed earlier this year and includes more than 425m of water banks, allowing the voles sufficient soft ground for burrowing, shelter and to raise their young. The habitat also includes open water channels to give the voles quick and stealthy access to food resources throughout the area.
FCC Environment's restoration and ecology manager, Paul Brightwell, commented: 'Water voles were once a common sight in the UK, but their numbers have been in sharp decline since the 1970s and they are now one of the country's most threatened mammals. We are delighted that our restoration works at Greengairs site will create a new home to help protect these creatures.'
He added: 'Once the vegetation within the habitat is well established, we will begin to introduce the voles to their new home. We have 25 males and seven females to be relocated in the first phase, providing them with a safe, suitable habitat, with the aim of boosting their numbers and biodiversity in the area.'
Before the voles are moved into their habitat, all the voles will undergo health checks to assess their weight, sex and establish their likely breeding condition. Once checked, the voles will be released into a specialist soft pen to encourage them to burrow into their new habitat.