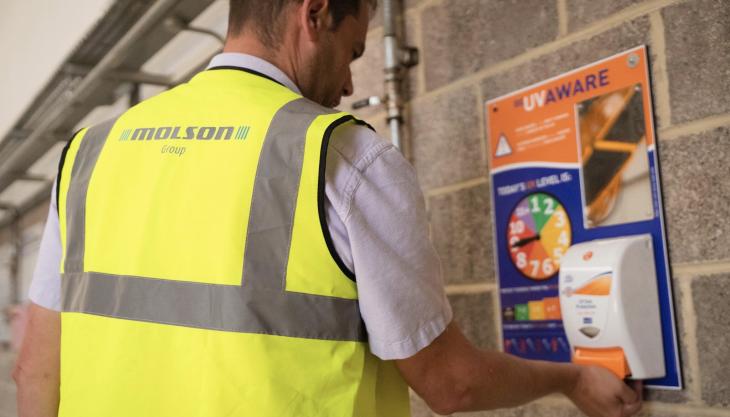 Company completes roll out of nationwide network of sunscreen stations ahead of UK heatwave
THE current heatwave may have taken many Brits by surprise – but Molson say they were ready for it, having managed to roll out their nationwide network of sunscreen stations before the hot weather hit, covering all 13 of their service locations throughout Great Britain.
A spokesperson for the company said: 'We take our responsibility for staff welfare seriously, and with many of our mobile service engineers and sales staff working in the open air at least part of the time, we wanted to make sure they were protected from harmful rays.
'The sunscreen stations ensure that all our service location staff have access to broad-spectrum 30 SPF sun-protection cream, ensuring they can continue to work safely even on the sunniest days.' 
It is well known that prolonged exposure to the sun's rays can cause skin damage. UVA is associated with skin aging, whereas UVB is associated with skin burning. Both UVA and UVB have been proven to contribute to the risk of skin cancer. 
Skin cancer is the most common form of cancer in the UK and rates continue to rise. At least 100,000 new cases are diagnosed each year and the disease kills more than 2,500 people annually (seven people every day*), despite it being the most preventable cancer. 
*Source: British Skin Foundation
Useful resources:
NHS sunscreen advice
Centres for Disease Control and Prevention
Cancer Research UK