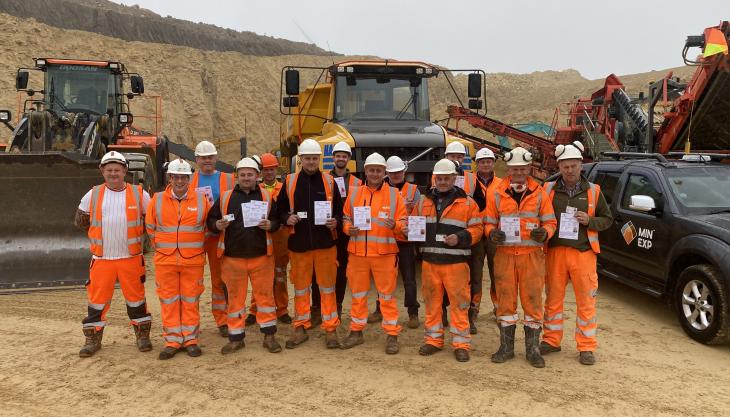 MinTrain deliver full Occupational Competence Assessment for all Eppleton Quarry operatives
Eppleton Quarry Products Ltd, a wholly owned subsidiary of Hall Construction Services Ltd, have recently successfully completed a full Occupational Competence Assessment (OCA) programme for all their operatives at Eppleton Quarry, in Houghton-le-Spring, near Sunderland.
Developed by EMPI Awards and delivered by MinTrain, the OCA is a robust and rigorous assessment of occupational competence based on and fully mapped to the National Occupational Standards.
Mark Kriehn, SHEQ director at Hall Construction Services, admitted he was sceptical of the legitimacy of the OCA when first approached by MinTrain and thought 'it was just another competence card scheme'.
'MinTrain's Mike Phillips quickly put any reservations I had to rest during a mock assessment he carried out with one of our plant operators, Dane Wood (Eppleton's now newly promoted quarry foreman),' said Mr Kriehn.
'What hooked me about this scheme was the fact that it is not a typical 'tick-in-the-box' plant operator card but a robust and rigorous assessment of competence, comprising an observation of skills, a multiple-choice knowledge test, consideration of experience, and an in-depth professional discussion on other qualities, as required by the Quarries Regulations.'
Quarry manager John Atkin, who was equally impressed with MinTrain and the OCA, explained why it was a simple choice for him: 'Having worked at the quarry for more than 10 years, I have seen and experienced many different so-called 'demonstration of competence' card schemes. I have to say that I have lost confidence in all of them, mainly due to the standard and quality of the assessment.
'I purposely chose MinTrain and the OCA as I genuinely believe that this is the most comprehensive scheme of them all and gives me the confidence to operate a safe quarry environment.
'One of the most comforting parts of the process was when we found out that some of our newer operators had not fully met all of the standards following an earlier assessment, so we took this on board, listened to the feedback, provided further training, and had them reassessed.
'Given that I actively promote and encourage people to operate numerous pieces of plant and equipment on a regular basis, we have completed a total of 29 individual categories across our team of 13 people, which clearly shows our level of commitment towards our staff.
'Without a doubt, the morale in the unit has increased by employing the services of MinTrain, as this was not purely a box-ticking exercise, but also provided a valuable mentoring and learning experience.
'The level of personal involvement with each of my guys, given that they have a wide range of personalities, skills, and experience, was second to none. Each one was provided for on a case-by-case basis, which for me made the difference.
'We have one particular employee with learning difficulties who took a lot longer than the others; however, the level of commitment and guidance got him through the process. This experience has also made a real impact on his personal life.
'I would highly recommend this scheme to any other quarry managers who feel that ticking a box is one thing, but having a truly engaged, competent and efficient workforce is something else. The OCA is hopefully the future of training and assessments.'
SHEQ director Mark Kriehn added: 'The positive feedback from the workforce was overwhelming. The level of engagement and participation gave plant operators the understanding and confidence to take complete ownership of their job role and their broader health and safety responsibilities.
'My thanks go to Mike Phillips for his innovation and commitment to delivering this OCA scheme, and to the newly appointed quarry management team, John Atkin and Dane Wood, for their support and enthusiasm for the scheme. I would highly recommend the OCA without reservation.'