Engineering Insights – full details revealed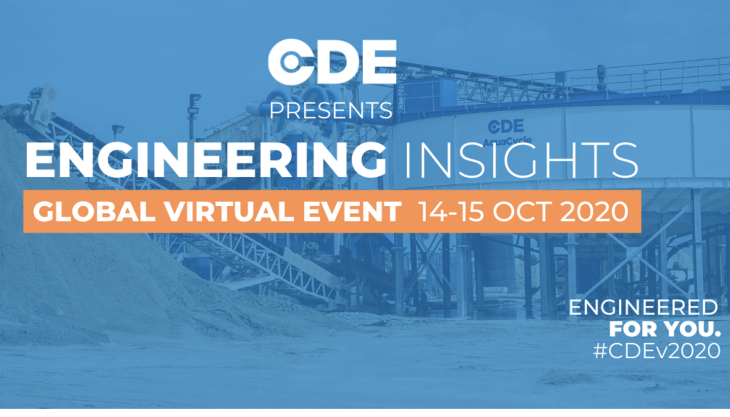 CDE announce keynote speakers and full agenda for next week's global virtual wet processing symposium

CDE have revealed the full agenda and line-up of keynote speakers for their upcoming Engineering Insights Global Virtual Event, which will take place from 14–15 October 2020.
Facilitated virtually across multiple time zones, the event features more than 70 sessions covering the key issues in the quarried sand and aggregates, industrial sands, mining, C&D waste recycling, and waste-management sectors, plus environmental policy and the technology for the wet processing plants of the future.

More than 100 industry professionals, including CDE experts, will facilitate a series of dynamic, educational, and informative presentations and panel discussions.

Recently announced speakers and sessions include:
Maximizing recovery through wet and dry processing, featuring Kiverco Recycling.
The industrious industrial sands market: a look at demand, application and challenges in creating it, featuring Dansand A/S.
How do you get the dirt out of dirt? A look at the challenges of contamination removal, featuring AA Environmental.
What's the future of planning & legislation challenges for sand production the UK, featuring SAMSA and Sibelco.
A review of legislation for the use of construction, demolition & excavation recycled material, featuring The European Commission.
Water management: a clean conscience, featuring Lonestar Aggregates.
The construction, demolition and excavation waste recycling pioneers, featuring Brewster Bros. and Zero Waste Scotland.
Is there hidden value in your by-product stockpiles?, featuring Longcliffe Calcium Carbonates and the Institute of Quarrying.
Day one of the event will launch with a keynote by Adrian Hart, associate director – construction and infrastructure at BIS Oxford Economics, exploring the short and long-term impacts of COVID-19 on construction in Australia and New Zealand. The day will conclude with a discussion around the importance of waste management and growing demand in the UK's urban landscape in the UK.

The final day opens with a keynote address by Marga Hoek, global thought leader on sustainable business and capital, who will discuss the need for all businesses to adopt global sustainability goals and the value sustainable practice can add to a business. The day will conclude with a session discussing the benefits of cyclone technology over traditional sand screws, with input from CDE USA customer Wheatcraft Materials.

Interactive Q&As will conclude each session and breakaway networking chat rooms will offer attendees the opportunity to discuss the insights and connect with leading industry experts.

Registration is free, but places will be limited for some roundtable and seminar sessions. For more information about the event or to register, visit: cdeglobal.com/vevent