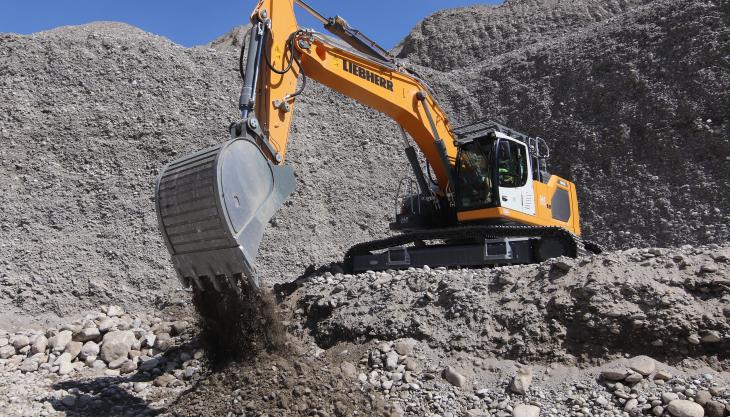 French firm expands fleet with seven new XPower wheel loaders and an R 945 G8 crawler excavator
SINCE their foundation in 1985, SAB have invested in more than 50 Liebherr machines, with new XPower wheel loaders and an R 945 G8 crawler excavator being the most recent additions.
The machines are in operation for around 1,500–2,000 hours per year in three different quarries, which meet around a quarter of the demand for aggregates in the French département of Hautes-Alpes.
'Choosing Liebherr is a decision based on reliability and their regular technical developments that meet our needs,' explained SAB director Lionel Para. 'We have a very good personal relationship with both Liebherr and their sales partner Ets PIC.'
The origin of Liebherr machines is also a motivation for SAB: 'Buying machines made in Europe and even in France is an important signal at this time when we need to support our industries in an increasingly uncertain and globalized economic environment.'
SAB's Liebherr fleet includes nine wheel loaders, of which seven XPower models were recently delivered. The XPower series is much appreciated by Lionel Para for its ease of use and low fuel consumption. The loaders are characterized by their high engine power for superior acceleration and speeds.
The hydraulic system and working equipment have also been improved so that higher breakout forces can be achieved, whilst the air-conditioned cab on XPower wheel loaders offers full all-round visibility and features an adjustable 9in touchscreen and optional joystick steering to create a safe and comfortable working environment.
Moreover, servicing XPower wheel loaders via their service access points is efficient, simple, quick, and safe, thanks to non-slip areas and stable ramps in the access area.
The latest Liebherr crawler excavator to join SAB's fleet is a Stage V-compliant R 945 G8, which was manufactured in Colmar, France. Their fleet also includes an R 974 and an R 950 SME, which were also built in Colmar.
The main strengths of the Generation 8 machine are its higher engine power, heavy counterweight for higher bucket capacities, and lower fuel consumption (SAB's R 945 G8 consumes 18 litres/h). Other innovations include the boom concept with modified head for better boom forces and optimized load curve.