New pumps to combat net-zero emissions challenges and white fuel costs in UK quarry markets
WITH the focus on reducing costs and emissions in the pumping sector continuing to grow, UK-based pump manufacturers DXB Pump & Power are continuing to answer these challenges by developing new products that minimize fuel consumption and reduce the emissions, such as CO2 and NOx, that are produced by older, hired-in pumpsets in UK quarries.
The company, which is the UK's only remaining family owned dry-prime pump manufacturer, has expanded its range of Stage 5 emission-compliant pumpsets for the UK market with the addition of three new smaller pumpsets that focus specifically on reducing fuel consumption and emissions, particularly in applications that run 24h a day, seven days a week.
Two of the three new units are in the popular 4in (100mm) and 6in (150mm) pump segment often used by quarries for low-head dewatering and transfer applications on site, whilst the third pumpset to be launched this month is an extension of DXB's 3in (80mm) higher-pressure range, another product that is in high demand in the quarry market. All the new pumps are Stage 5 approved and feature the lowest possible emissions as well as being available in electric and, in future, hydrogen-powered versions.
The new-high pressure DE200/100 pumpset, used in deep dewatering applications, generates 200m3/h at almost 11 bar operating at its best efficiency point (BEP) using a smaller Deutz TCD3.6-litre engine generating 95kw at 2,100 rev/min, making it one of the most economical 80mm high-pressure pumps on the market for dewatering quarries.
Housed in the same DXB3 canopy as its sister SS300/70 hard-iron pump, which is often used to pump washplant slurry to settling lagoons, the new pumpset can generate 40m more head and 20% more flow than the DE140/70 launched earlier this year with a 55kW engine, again from Deutz, but with no AdBlue/SCR system.
Standard features include the market leading DXB control panel complete with telemetry communication with users' phones, giving total control and reporting for owners looking to reduce energy costs and emissions on site. Other standard features include the FuelActive fuel-filtration system, used to reduce downtime and the cost of maintenance by constantly ensuring only the very best fuel is used by the Stage 5 engine.
Howard Bamber, director of hire and sales at DXB, said: 'We launched the DE140/70 earlier this year and it's been a huge success at quarries because of its design without any AdBlue exhaust system, but still gives great flows at medium pressures seen in most applications. However, we had some quarries that wanted more pressure, so the factory designed a new pumpset with a bit more power to generate higher heads, and that is now market leading, especially with such a small engine.'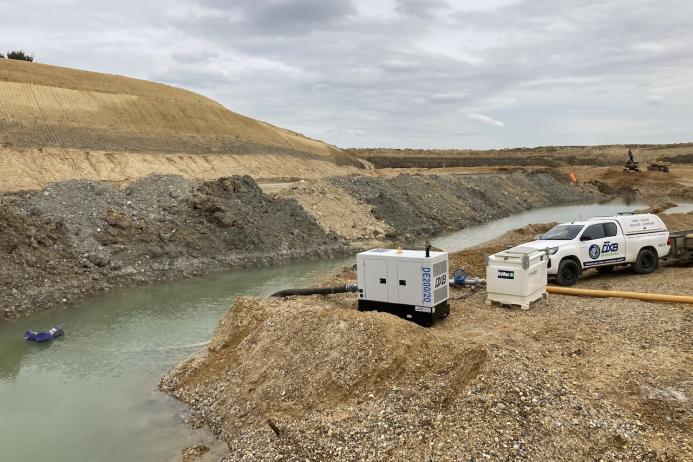 At the other end of the market, DXB Pump are also launching their new 4in and 6in DE200/20 and DE325/15 high-efficiency dewatering pumps, respectively, for quarries where energy costs are critical to the success of the site.
Powered by a small Perkins 18kW engine, the 150mm unit pumps up to 500m3/h and head of 25m while consuming only 5 litres of fuel per hour at BEP, making it the most fuel- and emissions-efficient pumpset in the UK (over 80% efficiency). Powered by such a small engine, no DPF is required, ensuring minimum downtime on site and eliminating a common problem with similar-sized pumps with larger engines.
With a 25W solar panel and auto-start/stop control panel as standard, these pumpsets, offer the user not only reduced fuel consumption while operating, but also save a large amount of fuel or electricity with their ability to switch themselves off and on as required.
With a fully bunded, sound-attenuated canopy, complete with three large service doors, these units have been designed with a major focus on ease of maintenance as well as reduced energy costs. 
Simon Ruffles, managing director of DXB, said: 'We already have two larger 6in pumps that are popular in quarries but sometimes smaller pumpsets are all that is required and now we have designed a pumpset that is highly fuel efficient and pretty low cost to buy as well.
'We needed to design two simple, extremely low cost to own and operate 4–6in general-purpose pumpsets and in our brand new DXB1 canopy. We did just that with a tiny three-cylinder engine that sips fuel and emits hardly any carbon, making it perfect for urban construction sites or companies with more-aggressive net-zero goals in the near future.'
With more than 40 models of Stage 5 / Tier4 Final and electric pumpsets now available for the hire markets, all using either Perkins, Deutz, or Scania engines, DXB Pump offer a broad range of pumps for global hire in the industrial, wastewater, geotechnical, and construction markets.