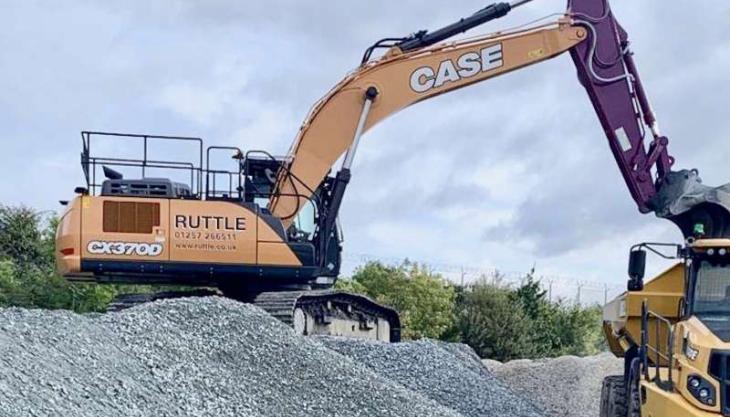 CASE Construction Equipment land 12-excavator deal with Ruttle Plant Hire through dealer Dennis Barnfield Ltd
CASE Construction Equipment dealers Dennis Barnfield Ltd have recently completed the sale of 12 excavators to Ruttle Plant Hire. This represents Ruttle's third order of multiple CASE excavators in the last year, the latest of which are destined for the company's general fleet of machines.
'The quality and reliability of our existing CASE fleet was the driver behind our decision to purchase these 12 excavators,' said Gareth Ruttle, director of Ruttle Plant Hire. 'We operate a large fleet of premium machines, all under two-years old, and due to positive feedback from customers and operators we are beginning to invest more heavily in CASE machines.
'We know that these new machines will deliver the level of performance, efficiency and reliability that we've come to expect from CASE. This large order was handled seamlessly by Dennis Barnfield Ltd and that was a huge bonus, meaning the process from procurement to delivery was quick and simple.'
The 12 machines consist of four CX130Ds, four CX210Ds, two CX300Ds, one CX350D and one CX370D. The CX350D and CX370D (pictured) are running recently introduced Stage V engines, while the remaining excavators are all Stage IV Final.
In addition to the 12 machines outlined above, Ruttle also placed an order for six CX210D excavators late last year and several CX80C models earlier this year.
'We are delighted to have established such a strong and trusted relationship with Ruttle Plant Hire,' said Mal Mackay, sales director at Dennis Barnfield Ltd. 'Being able to co-ordinate an order of this size for a key customer demonstrates both our strengths as a dealership and the efficiency of the CASE manufacturing and shipping process.
'We delivered the machines when the customer needed them, without delay, and the whole process ran smoothly from start to finish. Initial feedback on this latest order has been excellent, with both us and Ruttle looking to grow the relationship even further in the coming months.'
Anthony Bouvié, CASE Construction Equipment's business director for Northern Europe, commented: 'It's great to hear such praise of CASE machines from both our customers and our dealers. Ruttle have formed a relationship with Dennis Barnfield Ltd based on the strength of the CASE brand and the power and efficiency of our machines, and we all hope that this relationship continues to grow.
'The excavator line is an important part of our fleet and one in which we continue to invest significant development resources. It's good to see that our efforts are being acknowledged and praised by our customers.'