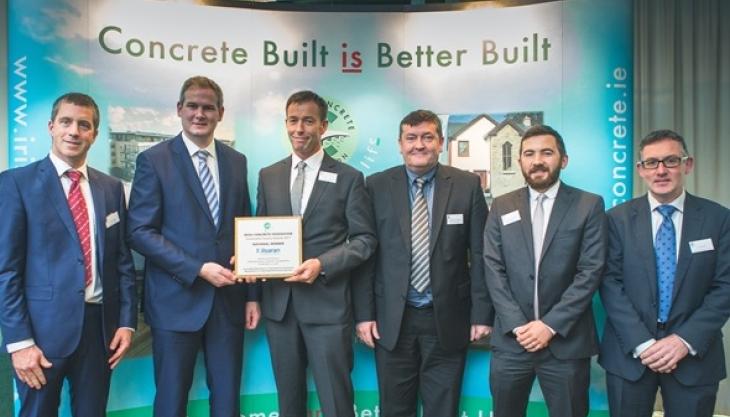 Wins for Gallstown and Ballinascorney quarries in Irish Concrete Federation's 2017 Sustainable Quarry Awards

KILSARAN International, based in Dunboyne, Co. Meath, were double winners at this year's Irish Concrete Federation Sustainable Quarry Awards.
The company's Gallstown Quarry was awarded the top prize as 'National Winner' with the citation 'Outstanding achievement in comprehensive environmental management of a large integrated extractive operation', while 'Outstanding achievement in overall quarry sustainability' went to Kilsaran's quarry at Ballinascorney, in south Co. Dublin.

Speaking after the event, Kilsaran's operations director, Derry McKeown, said: 'We're delighted to be recognized by our industry with these national awards. The quarrying sector, through the work of Irish Concrete Federation, is now more than ever aware of its responsibilities to the environment and the sustainable use of natural resources.'

Owned and operated by Kilsaran, and located six miles north of Drogheda, in Co. Louth, Gallstown Quarry is a large, modern operation that produces a wide range of aggregates, concrete products, asphalt and macadam, and hardcore and fill materials.

According to Kilsaran, a pioneering approach to production helps to maximize the full potential of the rock being quarried at Gallstown, in line with the principals of sustainable development.
The company is utilizing quarry dust and lower-quality screenings – previously considered to be little more than low-value by-products of quarrying – to produce high-value manufactured sand using specialized crushing, washing and screening technology. This new product is now used on site in the manufacture of high-quality ready-mixed concrete and blocks.
As with all of Kilsaran's quarries, Gallstown operates under a comprehensive environmental management system, whereby aspects such as energy use, emissions and use of natural resources are monitored and managed in a sustainable way.