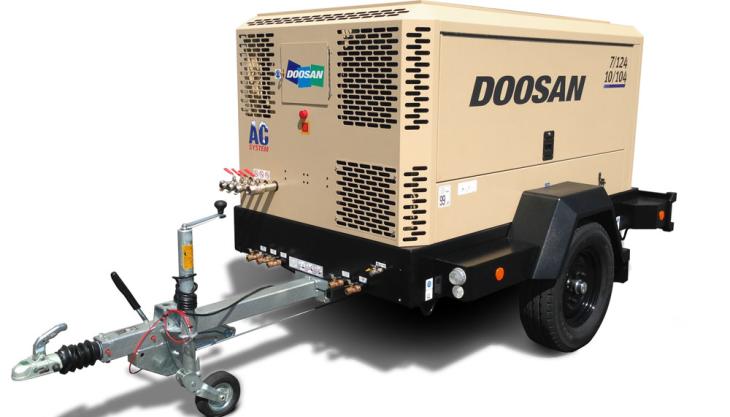 Plant hire firm places £3 million order for more than 300 Doosan portable compressors
DOOSAN Portable Power have secured a £3 million order from A-Plant, one of the UK's leading plant rental firms, for more than 300 new compressors. The deal includes around 60 of the innovative 'dual-mode' 7/73-10/53 and 7/124-10/104 compressors, along with the new 10/174 model, the largest single-axle portable compressor from Doosan.
A-Plant have also purchased Doosan 7/20, 7/26EG, 7/41 and 7/41G single- and two-tool units as part of the order.
Andrew Hatton, business director EMEA for Doosan Portable Power, said: 'We are delighted to win the new A-Plant order, which shows great confidence in the product range and the aftermarket service we offer.
'This is the biggest order yet for the new 7/124-10/104 dual-mode compressor and includes the first of our new Stage IV single axle 10/174 models, offering excellent mobility across the A-Plant fleet.'
The dual-mode feature is incorporated as standard on the 7/73-10/53 and 7/124-10/104 compressors. On the 7/73-10/53 unit, the operator can switch between 'LO' (low-pressure mode: rated pressure 6.9 bar/free air delivery of 7.3 cubic metres per minute) and 'HI' (high-pressure mode: rated pressure 10.3 bar/free air delivery of 5.3 cubic metres per minute).
Similarly, the 7/124-10/104 model can be switched between low-pressure mode with a rated pressure of 6.9 bar and a free air delivery of 12 cubic metres per minute, while the high-pressure mode offers a rated pressure of 10.3 bar and a free air delivery of 10.6 cubic metres per minute.
This 'two-for-one' solution is said to offer much greater operational flexibility from the same machine and eliminates the need to choose between different models. 
The Stage IV 7/124-10/104 compressor replaces the former Stage IIIB 7/125-10/110 model. Combining advanced engineering with cost-effective features, Doosan Portable Power say the replacement unit is designed to provide the ultimate in serviceability, durability and convenience.
The 7/124-10/104 is powered by a Cummins QSB 4.5 water-cooled diesel engine, providing 97kW (130hp) and meeting emission regulations through the use of cooled exhaust gas recirculation and diesel oxidation catalyst after-treatment technologies, without the need for a diesel particulate filter.
An eight-button keypad allows the user to start/stop, load, select HI or LO pressure modes and scroll through the MidPort interactive digital display integrated in the tachometer. The MidPort system allows the user to see selected engine and air-end temperatures and pressures, as well as features such as percent fan speed and engine load.
The new Stage IV emissions-compliant 10/174 model is powered by a Cummins QSB6.7 FR91440 six-cylinder diesel engine (168kW/225hp), offering fuel efficiency, easy maintenance and high reliability.
With a free air delivery of 14.9 cubic metres per minute at an operating pressure of 10.3 bar, the 10/174 compressor features a bunded base as standard for environmental protection and a well-positioned fuel tank featuring a large size filler to limit the risk of fuel spillage.
As with all Doosan compressors, the modular design of the 10/174 allows optional equipment (eg water separator system, wheel chocks, road lights, variable-height running gear, low-fuel beacon etc) to be added easily so the compressor can be adapted for specific applications.