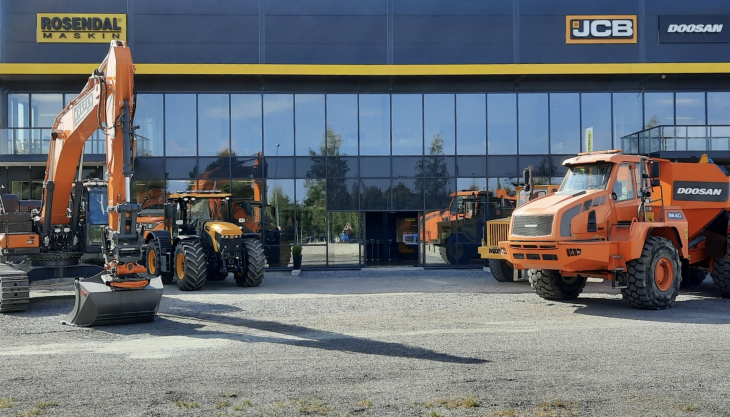 Rosendal Maskin invest in new service, warehouse, office, and showroom facilities in Askim
ROSENDAL Maskin AS, the authorized Doosan dealers for Norway, have opened a brand-new service centre at the company's headquarters in Askim. Built at a cost of €3.6 million, the new 2,000 sq m premises houses a pre-delivery inspection workshop and includes a washing room and welding facility, a new parts warehouse, offices, and a small showroom.
General manager Tor Anders Høgaas said: 'The opening of the new service centre gives us new opportunities and will make us an even better workplace where we can attract the best people to work for us. We are very proud of the new building and know that providing an enhanced work environment for our employees will help to take the company further.'
Established in 1986 by company founder and chairman Kåre Rosendal, Rosendal Maskin became a dealer for the Moxy range of articulated dumptrucks (ADTs) the following year. ADTs are still an important product for the company and became part of the Doosan range when Moxy were acquired by Doosan in 2008.
As the long-standing authorized dealers for Doosan in Norway, Rosendal Maskin are responsible for sales and service of the entire Doosan range, both compact and heavy, including not only ADTs, but also wheel loaders and excavators, as well as all Doosan attachments, accessories, and spare parts.