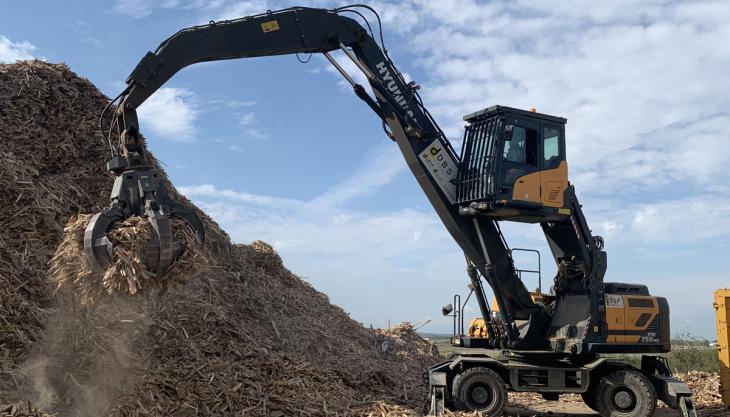 French waste-management firm adds new Hyundai HW250MH material handler to existing fleet 
DEPOT Bennes Services (DBS) have expanded their strong fleet of Hyundai equipment with the addition of a new HW250MH wheeled material handler.
The family-run business – which recovers and reuses construction and demolition (C&D) waste – was founded in 1989 by Raymond Hernandez, the father of current managing director David Hernandez. Since its formation more than 30 years ago, the company has developed and grown steadily with an annual turnover of €12 million. 
With an extensive fleet of Hyundai machines already spearheading DBS' waste-management operations, the new HW250MH material handler, supplied by local dealers Curty Matériels, is a welcome addition that will further improve the efficiency of the company's recycling and waste-handling activities. 
Mr Hernandez, managing director of DBS, commented: 'Waste management is a vast industry sector. Across the business, construction site waste accounts for 70–75% of our activities, while the remainder consists of waste from corporate entities and other industrial sectors. We also manage C&D waste when demolition work is performed, recovering all types of waste, from single material to mixed.'
DBS needed a robust, versatile and productive machine that would be able to handle a variety of duties (eg receiving waste, pre-sorting, feeding the sorting chain, reloading etc) in the harsh and dusty working environments that day-to-day waste-recycling sites are renowned for.  
Powered by a Cummins QSB6.7 diesel engine that delivers a maximum output of 136kW at 2,000 rev/min, the HW250MH has been the perfect solution to deal with DBS' varied materials handling needs and further complements the company's existing Hyundai equipment fleet, which includes a HL970 wheel loader, a 145LC-9 excavator and a 210W9MH material handler.
The durability of the HW250MH machine has also impressed Mr Hernandez. 'There is a lot of work for a wheeled material handler operating in our industry, and it's rare that such equipment is still operable after such a long service life,' he said. 
'What we equally appreciate is that, for this newest generation of material handlers, Hyundai has listened to the technical feedback that we [equipment operators] have provided over the years. 
'For example, the chassis has been widened and reinforced, making the vehicle much more stable but without having lost any operational speed or cabin comfort. It is a sturdy machine yet flexible and agile, and we speak highly of its efficiency and ability to do the job.'