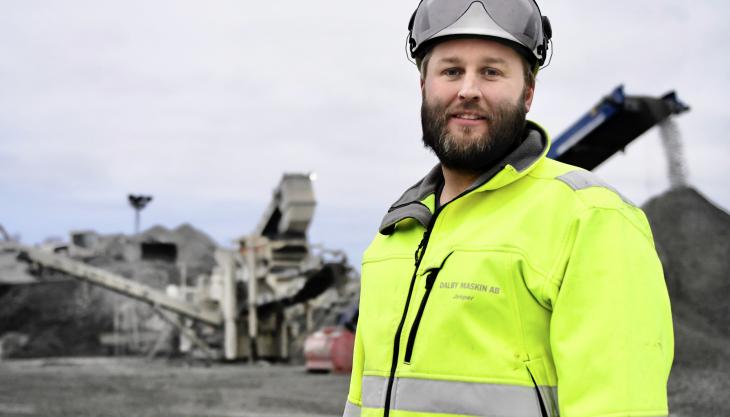 Quarry saves more than €100,000 a year in fuel costs by switching to Volvo Penta engines
VOLVO Penta have been field-testing engines in partnership with quarrying and recycling company Dalby Maskin, at their site in Uppsala, Sweden, since 2010. What started as a two-year field-testing project for a Stage IIIB engine in a rock crusher, soon expanded into a request from the customer to repower their other crushers, as well as Stage IV and Stage V testing in crushers and a screener.
Dalby Maskin say that by switching their four crushers and a screener to Volvo Penta engines, they are now saving more than €100,000 a year in fuel costs. 'After seeing how reliable and fuel-efficient the engine was during the field test, we knew it made financial sense to repower our other crushers and make the switch from a competitor's engine to a Volvo Penta model,' explained quarry operations manager Jesper Sundström.
'Volvo Penta had some great ideas about how to reduce fuel consumption, noise and rev/min with a smaller engine, while still getting the performance we needed – and they were right. Since making the change from a competitor's 15-litre engine to a Volvo Penta 13-litre engine, we've cut fuel consumption by up to 20 litres/h.'
He continued: 'Previously, the service interval was 250 hours, but now we have a 1,000-hour interval between oil changes. And, thanks to lower engine revs and smaller engine displacement, we don't have to change the air filter that often. Within a couple of years, the engines pay for themselves – so there is a good business case.'
There are two parts to Dalby Maskin's business – quarry operations and recycling. The family-run company, which has been in operation since 1989 and employs around 30 people, manufactures and sells crushed rock, concrete and asphalt products, as well as wood and recycled materials.
Volvo Penta are conducting field tests at the quarry, but there are Volvo Penta engines powering machines, such as woodchippers, on the recycling side of the business too. In total, the company owns and operates around 25 machines.
Volvo Penta have tested seven engines with Dalby Maskin over the last 10 years. During this time the company has also bought Volvo Penta engines to repower other equipment at the site. Currently, Volvo Penta are field-testing two engines at the quarry: a D13 Stage V, which is powering a Metso crusher, and a D5 Stage V, which is powering a screener.
Testing started on the D13 in 2017 and, so far, it has clocked up around 7,000 hours. The screener was originally repowered in 2015, switching from a competitor's engine to a Volvo Penta D8 Stage III. In 2017, this was changed to a D8 Stage V, and last year it was replaced with a D5 Stage V – which has already clocked up around 2,000 hours.
'We changed the size of the engine to see the difference between the D5 versus D8, as we thought the machine was overpowered for its application and workload,' explained Andreas Nyman, manager of field tests and data management at Volvo Penta.
'We also changed the hydraulic pumps so we could reduce the rev/min from 1,900 to 990. With these changes, we managed to decrease the fuel consumption from 11.6 litres/h to 7.5 litres/h – a significant reduction which saves the customer a lot of money, is better for the environment and doesn't compromise performance.
'This is why we work with customers to find the right size engine for their application and usage, to maximize fuel efficiency and uptime.'
Testing is a key part of the development process at Volvo Penta to verify performance, reliability and durability. In-house testing in test cells involves everything from specific component tests to calibration, functional and stress tests. This allows for all the parameters to be fine-tuned to ensure the engines deliver the right power and torque and meet emission requirements.
The engines also undergo field tests where they are installed in machines that customers use for real work. Volvo Penta currently have 35 Stage V engines operating in different applications, climates, environments and countries as part of ongoing field tests.
'We work with customers to test our engines in the most demanding environments to ensure optimum performance whatever the application, including high altitude, underground and hot and cold climates,' explained Mr Nyman.
'Testing our engines at Dalby Maskin is ideal due to dusty summer and freezing winter conditions. The work is tough and demanding – with lots of vibrations – and the engines are running five days a week for up to 12 hours a day. We have telematics systems mounted on the engines, so we are collecting a lot of data. We can see that the engines are performing really well, and the customer is happy, so it's a success for everyone involved.'
'Our experience with Volvo Penta is excellent,' concluded Jesper Sundström. 'We're saving time and money – that's why we've bought new Volvo Penta engines and repowered other equipment at our site.
'We haven't had any problems with the engines and feedback from our team is very positive. The noise levels around the machines are much lower, which makes a huge difference on site. The new engines are also much cleaner and the increased time between service intervals is another big benefit.
'Since our introduction to the brand 10 years ago, we haven't looked back. Now we want all the new machines we buy to be fitted with Volvo Penta engines.'