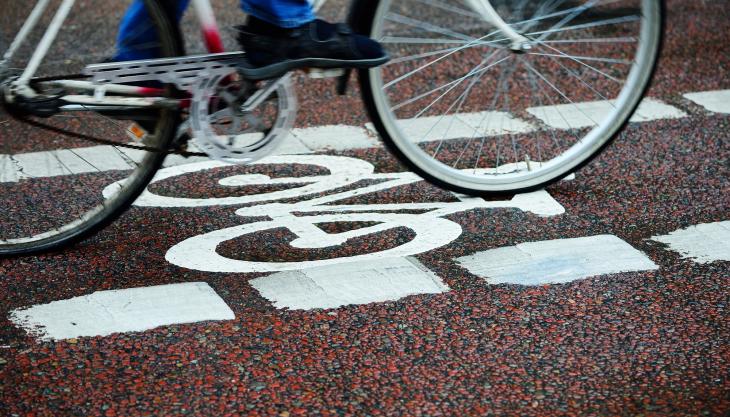 Aggregate Industries call on the construction industry to help raise cyclist safety further up the agenda
HAVING seen a flurry of headlines in 2017 about the disturbing number of cycling casualties on UK roads, Aggregate Industries are calling on the construction industry to help raise standards in order to reduce and prevent future accidents between cyclists and lorry drivers.
According to a recent report by the Royal Society for the Prevention of Accidents (RoSPA), a total of 18,477 cyclists were injured in reported road accidents during 2016, including 3,499 who were killed or seriously injured.
Notably, the same study highlights that heavy goods vehicles (HGVs) present a danger to cyclists with approximately one quarter of accidents resulting in serious injury to a cyclist involving an HGV, bus or coach 'passing too close' to the rider.
Ben Young, head of road logistics at Aggregate Industries, commented: 'The cycling safety issue has continued to escalate and must be addressed. Despite the associated dangers, the number of cyclists on the road has rapidly increased in recent years, at the same time as general traffic levels; thus, unless swift action is taken to enable a safer collective use of our roads, the reality is that the current level of cyclist casualties will remain unchanged.
'For our industry, the onus is on ensuring that all construction and haulage vehicle operations are designed to be as rigorous and safe as possible. At Aggregate Industries, for example, we operate an incredibly robust theory and practical testing process when recruiting a new haulier, which includes requiring them to achieve a minimum of Fleet Operator Recognition Scheme (FORS) Bronze accreditation – which includes best practice in cycle safety.
'In addition, we also operate a 'Fair & Just' points-based policy whereby any haulier working within our network will be tackled firmly and fairly if they have been caught driving dangerously.
'Of course, we are always looking for ways to enhance our vehicle specification to protect the vulnerable road-user. Our current spec includes a five-camera system, side-scanning technology and audible warnings for both the driver and the pedestrian or cyclist.'
In September 2017, the Government announced plans to launch an urgent review of cycle safety following a series of high-profile incidents involving cyclists. The first phase will look at introducing new road laws for cyclists, while the second phase will look more widely at road safety issues related to cycling and will consider the rules of the road, public awareness, signage for road users, and safety risks, including whether helmets should be made compulsory.
Mr Young added: 'While it will be interesting to see what comes out of the Government review, we feel cycling should be truly recognized as an important form of transport by providing the supporting infrastructure.
'A great example of this is the use of our innovative cycleway kerbing, which has been employed by numerous councils across the country as part of an investment in a segregation systems – in order to safely segregate cyclists from key traffic blind spots.
'Although such projects are, unfortunately, still few and far between, our hope is that we will continue to see more investment in these initiatives to aid cycle safety. Until then, the remit is for all relevant parties, including those working in our own industry, to strive for best practice and help raise the issue of cyclist safety further up the agenda.'