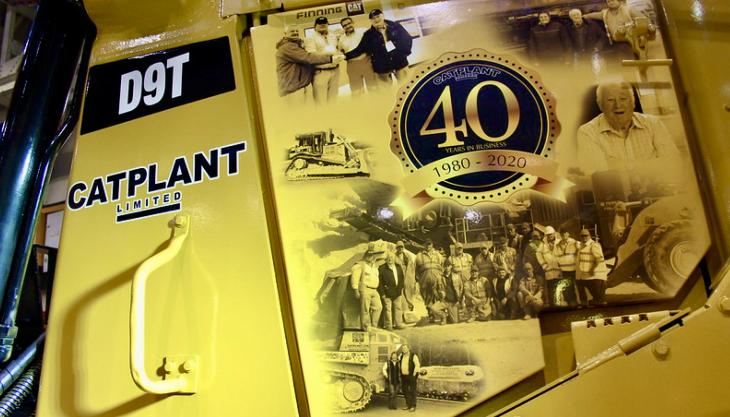 Long-standing Cat machinery user invests in custom-wrapped dozer to celebrate 40 years in business
NOW in their 40th year of business, South Yorkshire-based Catplant Quarry Ltd have kicked off the celebrations with an investment in a Cat D9T dozer from Finning UK and Ireland. The machine has been customized with photos of old machines and other happy memories as a thank you to the company's staff for their hard work during the COVID-19 pandemic.
The family-run quarrying and landfill firm has been working with Finning since day one and now has more than 30 Caterpillar machines in its fleet, ranging from compactors and 90-tonne excavators through to several mini-diggers. When the chance to purchase the D9T – a rental model that was rebuilt through the Response, Repair and Rebuild department at Finning – arose, managing director Ronnie Harrod jumped at the opportunity.
The Cat D9T, which has been custom wrapped with a collage of pictures, has a reputation for high levels of productivity, operator comfort and reliability. It is a highly versatile machine designed and built for superior performance, ease of operation and longevity. Moreover, the D9T is built to be rebuilt, meaning it is not unusual for some to log up more than 100,000 hours.
Alongside the D9T, Catplant have also invested in a brand-new D6 XE dozer, the world's first high-drive electric-drive dozer, which has been put to work creating new batters for the landfill site within the company's limestone quarry. Boasting up to 35% better fuel efficiency than previous models, the D6 XE is said to offer class-leading manoeuvrability and power for increased agility and faster cycle times.
'This will be the second time that we've had a machine customized, our first being done to mark the passing of Catplant's founder,' said Mr Harrod. 'Commemorative machines are special to us, and we're always keen to use high-performance technology, so the new customized D9T is an excellent way to thank our team, who have gone above and beyond this past year to adapt and get the work done in the middle of a global pandemic.
'Both the D9T and the D6 XE will be great additions to the fleet due to their long-term value and durability, and we look forward to seeing how these machines fit in and strengthen the backbone of our already successful operations.'
'Ronnie and the team at Catplant have been valued customers of Finning from day one of the company's operations,' commented Ben Jarzyna, product support account manager at Finning. 'The company has changed over the years, but quickly adopting new technology has kept it at the forefront of the industry. Wrapping the technology that's helped the team to be so successful is a perfect way to celebrate their 40th anniversary.'